CM Bommai to launch Yuva Shakti Sangh Yojana
Chief Minister Basavaraj Bommai to launch Swami Vivekananda Yuva Shakti Sangh Yojana on 23rd
Bengaluru: Chief Minister Basavaraj Bommai will launch the Swami Vivekananda Yuva Shakti Sangh Yojana on 23rd of this month. In this regard, today the Chief Minister held a meeting with senior government officials and Zilla Panchayat Chief Executive Officers and received information about the progress of the formation of associations.
Women's Self Help Groups have been active for many years. But for the youth to take up self-employment for the first time, such a scheme has been devised, and Zilla Panchayat Chief Executive Officers should act with high priority. As a joint venture group, your work does not end with the round of funding allocation. These groups indicated that you need to guide them until they identify a project, get a loan from a bank, set up their enterprise and start production.
The consultants assigned to identify the projects should be trained by the experts in the respective field as per the project undertaken by the youth. He said that only then the project can be successful. While lending to Yuva Shakti Sanghs, if the project amount is high and they become profitable projects, the banks will give Rs 5 lakh as per government. The Chief Minister advised the bankers to support the youth by sanctioning loans above the limit.
Youth Empowerment, Sports and Silk Minister Narayana Gowda, Youth Empowerment and Sports Department Additional Chief Secretary Dr. Shalini Rajneesh, Principal Secretary to Chief Minister N. Manjunath Prasad and other senior officers attended the meeting.
Progress of the project so far: There are a total of 5,951 gram panchayats in the state, under the Swami Vivekananda Yuva Shakti Yojana, an order was issued on 8th of this month with the concurrence of the finance department to form two joint responsibility groups for each gram panchayat. Accordingly, a total of 6,509 Joint Obligation Groups will be formed by the end of March 2018. 5,393 Joint Undertaking Groups are yet to be formed.
Already, revolving fund has been disbursed to 754 joint venture groups at Rs.10,000/- each at a total cost of Rs.1.75 crores. 100 sample proposals have been submitted to banks, out of which around 551 projects have been submitted for approval and loan sanction by banks.
General Service Center, State Bank of India and NLM to carry out bank linkage, account opening and bank loan related activities of Swami Vivekananda Yuva Shakti Yojana. A total of 7, 300 B.C. from and by the bankers. The services of sakhis are being obtained and they are being given an incentive of Rs.2000/- from nationalized banks and Rs.4000/- from cooperative banks.
Over 40 Arrested in Connection with Stone-Pelting Incident in Shivamogga
Karnataka CM Siddaramaiah announced over 40 arrests in connection with the recent Shivamogga stone-pelting incident during a press briefing on Monday.
Shivamogga: Karnataka Chief Minister Siddaramaiah addressed the media on Monday, revealing that over 40 individuals have been apprehended in relation to the recent stone-pelting incident that occurred in Shivamogga. Legal actions have been initiated against those involved.
Tensions flared up in Ragigudda, near the Shantinagar area of Shivamogga city in Karnataka, on Sunday night during an Eid Milad procession. Reports emerged of a mob hurling stones at houses and vehicles, resulting in damage and injuries to several participants in the religious procession. Six people, including two policemen, sustained injuries and were subsequently transported to the district hospital.
In response to the unrest, Rapid Action Force (RAF) teams were dispatched to the scene, and police resorted to mild lathi charges to disperse the crowd.
Following these events, Section 144 of the Indian Penal Code (IPC) was imposed in specific areas of the city to maintain law and order.
The outbreak of violence stemmed from protests earlier on Sunday, arising from the police's decision to obscure a cutout of Tipu Sultan, the former ruler of Mysuru, with a curtain. Allegedly, the cutout depicted Tipu Sultan engaged in actions deemed offensive by certain sections of the community. It was reported that paint had been smeared on the ruler's cutout, sparking protests in Ragigudda.
Shivamogga Superintendent of Police GK Mithun Kumar visited the scene and engaged in discussions with the protestors to ease tensions. However, the situation escalated, leading to the stone-pelting incident. The exact sequence of events remains unclear, with some media outlets suggesting that rumors of stone-pelting at the procession by outsiders in a different location may have incited the stone-throwing in the Ragi Gudda area.
SP GK Mithun Kumar stated, "Some miscreants pelted stones during the Eid Milad procession. Some vehicles and houses were damaged. Based on videos and information, individuals have already been arrested in connection with the incident. Section 144 has been imposed in the area as a precautionary measure, and a case has been registered. The situation is now under control, except for Shanti Nagar and Ragi Gudda. Stringent action will be taken against the culprits."
Local authorities have urged residents to avoid spreading rumors on social media platforms.
CM Siddaramaiah assured that the situation in Shivamogga is currently peaceful, and the police are taking all necessary measures to maintain order. He emphasized that disturbing religious events and engaging in stone-pelting is unlawful, and his government will not tolerate such incidents, promising to suppress them.
Shivamogga BJP MLA S N Channabasappa visited the houses in the Ragi Gudda area damaged during the stone-pelting and alleged the involvement of outsiders. He expressed concerns about the city becoming a hub for those seeking to spread terror.
To ensure peace and security, a substantial police presence has been deployed in the communally sensitive city, with at least 12 platoons of District Armed Reserve (DAR), two platoons of RAF, two platoons of Karnataka State Reserve Police (KSRP), and 2,500 police officers stationed across the city.
Shivamogga has witnessed previous incidents of communal tension, including the murder of Bajrang Dal activist Harsha in February 2022 and a series of stabbing incidents related to the display of banners and posters featuring the controversial freedom fighter Veer Savarkar.
JD(S) Loses Secular Status by Aligning with BJP: CM Siddaramaiah
Karnataka CM questions JD(S) on secular claim post BJP alliance for 2024 elections.
Chamarajanagar: Karnataka's Chief Minister, Siddaramaiah, took a pointed jab at the JD(S), led by former Prime Minister H.D. Deve Gowda, on Wednesday. He questioned the party's claim to be secular after forming an electoral alliance with the BJP for the upcoming 2024 Lok Sabha elections.
The JD(S) recently made the decision to join forces with the BJP following a meeting between its leader and former Chief Minister, H.D. Kumaraswamy (the son of Deve Gowda), Home Minister Amit Shah, and BJP National President J.P. Nadda in New Delhi.
Addressing reporters in Konanakere district, Siddaramaiah remarked, "They have now forged an alliance with the BJP for the elections, so what should we call them? The name suggests 'secular,' but are they still secular? Can we believe what they claim? Even after aligning with a communal party, can they still be considered secular? Let them align with the BJP or anyone else; we don't object to that. But they shouldn't claim to be secular; that's all. The Janata Dal should not portray itself as a secular party."
JD(S) had previously formed governments in coalition with both the BJP and Congress, serving for 20 months from January 2006 and 14 months from May 2018, with Kumaraswamy as the Chief Minister on both occasions.
Earlier in the day, Kumaraswamy criticized Congress leaders for suggesting that Deve Gowda had proven JD(S) to be the "B-team" of the BJP by forming an alliance with them. He argued that had he chosen to align with the BJP, as per the invitation from Shah, instead of with the Congress after the 2018 Assembly polls, he could have governed for a full five years.
Accusing the Congress of undermining secular forces across the country, Kumaraswamy alleged that they even attempted to "eliminate" the JD(S) after forming an alliance with the party. He pointed out that the JD(S) did not expel Siddaramaiah from the party, countering claims that in 2004, Siddaramaiah had attempted to meet with the then BJP leader M. Venkaiah Naidu in Chennai to explore an understanding and form a government.
In response, Siddaramaiah clarified, "I have never met Venkaiah Naidu. It's true that I met (L.K.) Advani. Advani was formerly part of the Janata Party; that's how I know him, and I did meet him."
Muslim Leaders Resign from JD(S) Following BJP Alliance
JD(S) joins BJP-led NDA; Muslim leaders, including Syed Shafiullah, resign from party roles in response.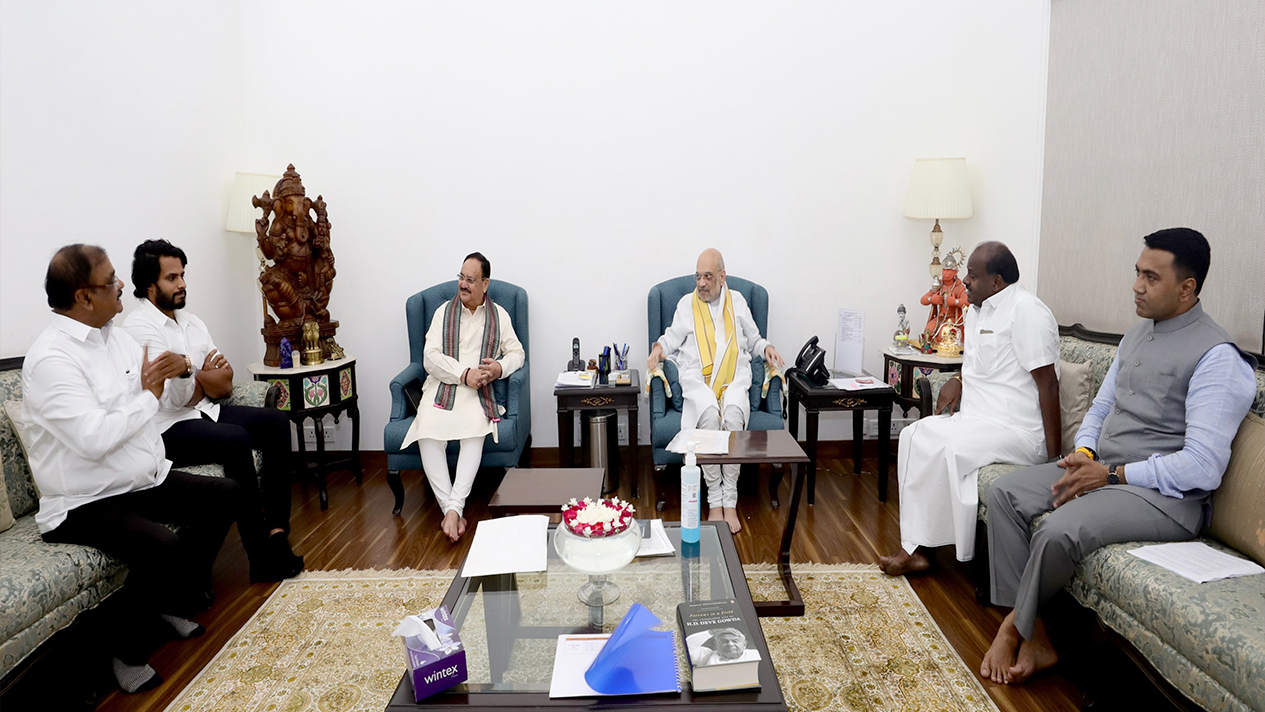 Karnataka:The JD(S) has officially joined the BJP-led NDA in preparation for the upcoming Lok Sabha elections next year. In response to this development, senior Muslim leaders, including Syed Shafiullah, who held the position of the party's senior state vice-president, have resigned from all party positions.
This move by the JD(S) is part of the BJP's efforts to reconfigure its electoral strategy in various states, both for the forthcoming Assembly polls in five states and the imminent general election. The JD(S), under the leadership of former Prime Minister HD Deve Gowda, has affirmed its alliance with the NDA and emphasized its collaboration with the saffron party to challenge the Congress in Karnataka during the Lok Sabha polls.
Syed Shafiullah, the Senior State Vice President of JD(S), decided to resign from the party due to the JD(S)'s decision to form an alliance with the BJP. In his resignation letter, he expressed his commitment to the party's secular principles and cited a previous instance when the JD(S) had aligned with the BJP to form the state government. He also noted his previous decision to stay outside the party during that period.
It's worth mentioning that the JD(S) had previously formed coalition governments with both the BJP and Congress independently, with Kumaraswamy serving as chief minister for 20 months from January 2006 and 14 months from May 2018, respectively.
Shafiullah explained his resignation by stating, "Since the party's senior leaders are now choosing to align with the BJP, I have no choice but to submit my resignation to the party's Senior Vice President Office of the State and also my Primary Membership of the Party."
According to a report by Deccan Herald, several other prominent figures, including former minister N M Nabi, former New Delhi representative Mohid Altaf, youth wing president NM Noor, and former minority wing chief Nasir Hussain Ustad, are also leaving the regional party.