Lucknow Court Shootout: Rs 20 Lakhs for Gangster's Murder
Lucknow police have conducted a preliminary investigation into the shocking murder of gangster Sanjeev Jeeva, which occurred on the premises of the Lucknow district court on Wednesday.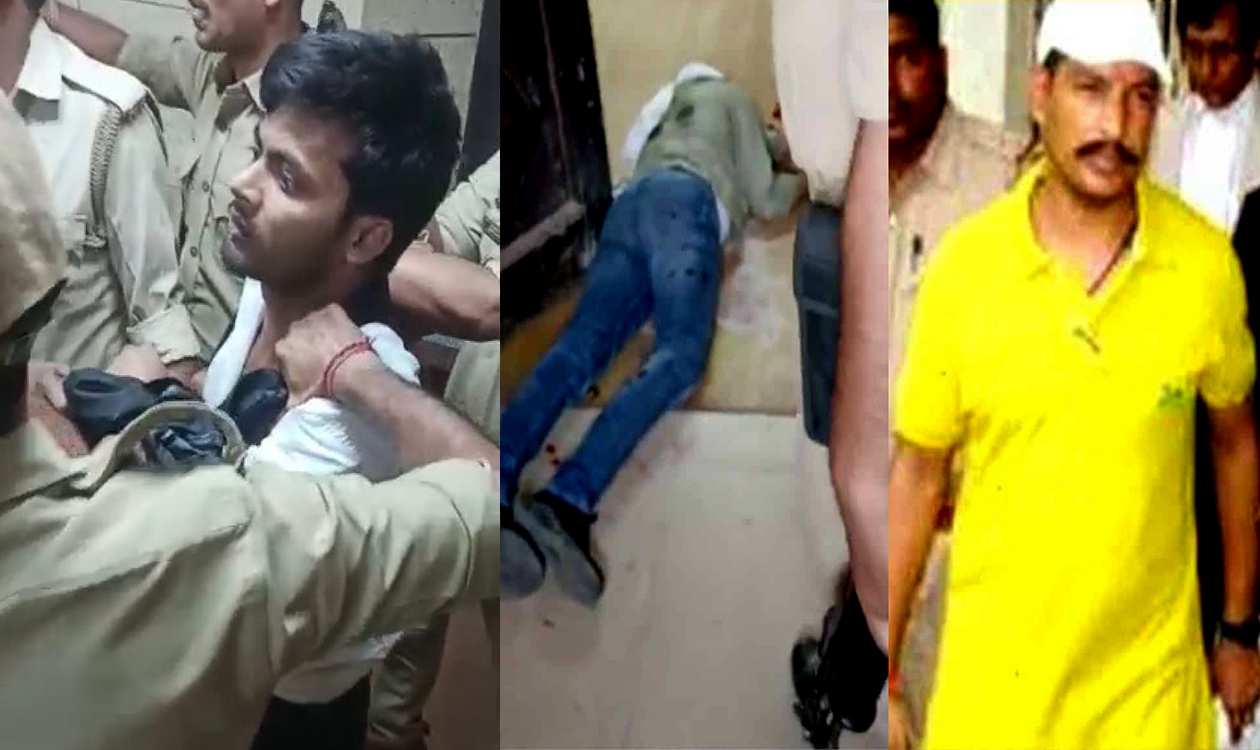 Lucknow: Lucknow police have conducted a preliminary investigation into the shocking murder of gangster Sanjeev Jeeva, which occurred on the premises of the Lucknow district court on Wednesday. The initial findings reveal that the assailant, identified as 24-year-old Vijay Yadav, was offered a contract worth Rs 20 lakh to carry out the killing. Yadav, who fired 7-9 rounds of bullets, was apprehended immediately after the incident.
According to the police, Yadav used a Czech-manufactured Magnum Alfa revolver with a .357 bore, which was recovered at the crime scene. The post-mortem report indicated that Sanjeev Jeeva sustained a total of eight bullet injuries. Six bullets had penetrated his torso, exiting on the opposite side, while two bullets struck each hand. The autopsy further revealed that all the bullets entered the victim's body from the left side of his back.
Police sources suggest that Vijay Yadav, a resident of Kerakat in Jaunpur, had come to Lucknow in search of a job, during which he possibly encountered the person who offered him the contract to kill Sanjeev Jeeva. Authorities are awaiting Yadav's recovery to confirm these details. However, he claimed to not remember the name of the person involved. It should be noted that Vijay Yadav has a criminal record, including a prior case registered against him under the Protection of Children from Sexual Offenses (POCSO) Act for allegedly raping a minor in Azamgarh in 2016, for which he served a six-month jail sentence. He was also booked for violating Covid norms in Jaunpur in 2021.
In a similar pattern to the shooters of gangster Atiq Ahmed and his brother Ashraf, who were in police custody, Yadav also leads a reclusive life and has had minimal interaction with his family members recently. His mobile phone has been switched off for several days, as confirmed by his younger brother, Satyam Yadav. According to Satyam, Vijay lost interest in his studies after completing class 10 and left for Maharashtra in 2021 to work in a pipe company. Satyam expressed his family's concern about Vijay's detachment, noting that he seldom communicates with them, causing distress to their mother, Nirmala Devi.
Sources indicate that Vijay started working at a pipe company in Lucknow earlier this year. The last interaction with his family took place on May 11 before his phone became unreachable.
Meanwhile, the 18-month-old girl, Lado, who suffered a bullet injury resulting in a punctured lung during the shooting, underwent surgery last night. Fortunately, she is now in stable condition and out of danger, according to police sources. Neelam, the mother of the injured girl, also sustained minor injuries as a bullet grazed her fingers. Uttar Pradesh Chief Minister Yogi Adityanath visited the injured individuals, including two constables, at the Lucknow Trauma Centre.
In response to perceived police negligence leading to such a crime on court premises, lawyers from the Lucknow Bar Association staged a work strike on Thursday as a form of protest.
The investigation into the murder of gangster Sanjeev Jeeva continues, with authorities focusing on unraveling the contract killing plot and identifying the individuals behind it.
Jaipur Communal Tensions Following Biker's Tragic Death
Biker fatally beaten in confrontation after motorcycle accident, succumbing to injuries.
Jaipur, Rajasthan: Communal tensions flared up in the Ramganj area and its vicinity in Jaipur, Rajasthan on Saturday, stemming from a tragic incident involving a motorcycle collision that led to a man's demise.
According to the police, the unfortunate incident occurred at the Subhash Chowk locality in Jaipur. It was reported that after a collision between two motorcycles, a group of men allegedly assaulted one of the riders, resulting in his untimely death.
Late on Friday night, the collision transpired within the Subhash Chowk area, whereupon a group of men accompanying one of the motorcycle riders reportedly subjected the other rider, identified as Iqbal, to a brutal assault. Iqbal sustained severe injuries and was promptly rushed to the SMS Hospital. Tragically, he succumbed to his injuries while receiving medical treatment.
In the aftermath of this distressing incident, numerous shops in the predominantly Muslim-populated areas have been shuttered. Family members of the deceased, along with local residents, have congregated and are now demanding justice and punitive action against those responsible for the attack, as reported by PTI.
To quell the escalating tensions, additional police forces have been deployed in the region, and concerted efforts are underway to defuse the volatile situation, according to statements from the police to PTI.
A purported video of the incident has surfaced on social media platforms, although its authenticity cannot be independently verified at this time.
In a significant development, six individuals have been apprehended in connection with the case. Additionally, authorities have announced compensatory measures for the family of the deceased, as reported by India Today. The publication quoted the Jaipur Administration as stating, "A compensation of Rs 50 lakh, along with employment opportunities and a dairy booth, has been announced for Iqbal's family. According to police sources, six individuals have been detained in connection with the case."
Father of Ujjain Rape Suspect Calls for Son's Execution
People who didn't aid the raped, injured, and naked 12-year-old girl may face child sex abuse law charges, A senior officer of the state police said.
Ujjain: The father of the man arrested in connection with the alleged rape of a 12-year-old girl in Ujjain on Friday has called for his son to receive the death penalty. Meanwhile, the local bar association has appealed to lawyers not to defend the accused in court. The victim, a 12-year-old girl, was discovered walking on the city streets in a wounded condition, desperately seeking assistance from passersby who unfortunately turned her away.
The injured girl is currently receiving treatment at the Government Maharaja Tukojirao Holkar Women's Hospital in Indore, where she underwent a major surgical procedure on Wednesday. A senior state police official has indicated that individuals who failed to assist the young girl when she went from door to door seeking help after the assault, which left her naked and bleeding, could potentially face charges under child sexual abuse laws. Such individuals may be charged under the POCSO Act for failing to report or register the commission of a crime, according to an NDTV report.
Bharat Soni, an auto-rickshaw driver, was taken into custody in connection with the case on Thursday. His father expressed his deep shame over the incident, stating, "It is a disgraceful act. I have not visited the hospital to see him, nor will I go to the police station or court. My son has committed a crime, and he should face the ultimate punishment, which is hanging," as he conveyed his sentiments to reporters. It should be noted that Soni sustained injuries while allegedly attempting to flee during the investigation, according to the police's statement on Thursday.
The Congress party has criticized the BJP government in Madhya Pradesh, where assembly elections are scheduled by year-end. Congress spokesperson Supriya Shrinate alleged that the state's law-and-order situation had significantly deteriorated under the leadership of Chief Minister Shivraj Singh Chouhan.
"In Madhya Pradesh, being a Dalit, tribal, or woman has seemingly become a crime. The state ranks highest in cases of minor rape. During Chouhan's 18-year tenure, there have been 58,000 reported rape cases and 68,000 reported kidnapping cases. Yet, the country's prime minister, home minister, and all BJP leaders remain conspicuously silent," Shrinate conveyed to reporters in Delhi.
The distressing incident, captured by a CCTV camera, depicts the 12-year-old girl, partially undressed and bleeding following the assault, desperately seeking assistance from neighbors who callously refused her aid. Furthermore, in a shocking display of heartlessness, one individual can be seen shooing her away as she approaches him for help.
Mob's Bid to Enter CM N Biren Singh's House in Imphal East, Manipur
Protests and clashes escalate in Imphal's Manipur following tragic youth deaths; curfew reinstated in two districts.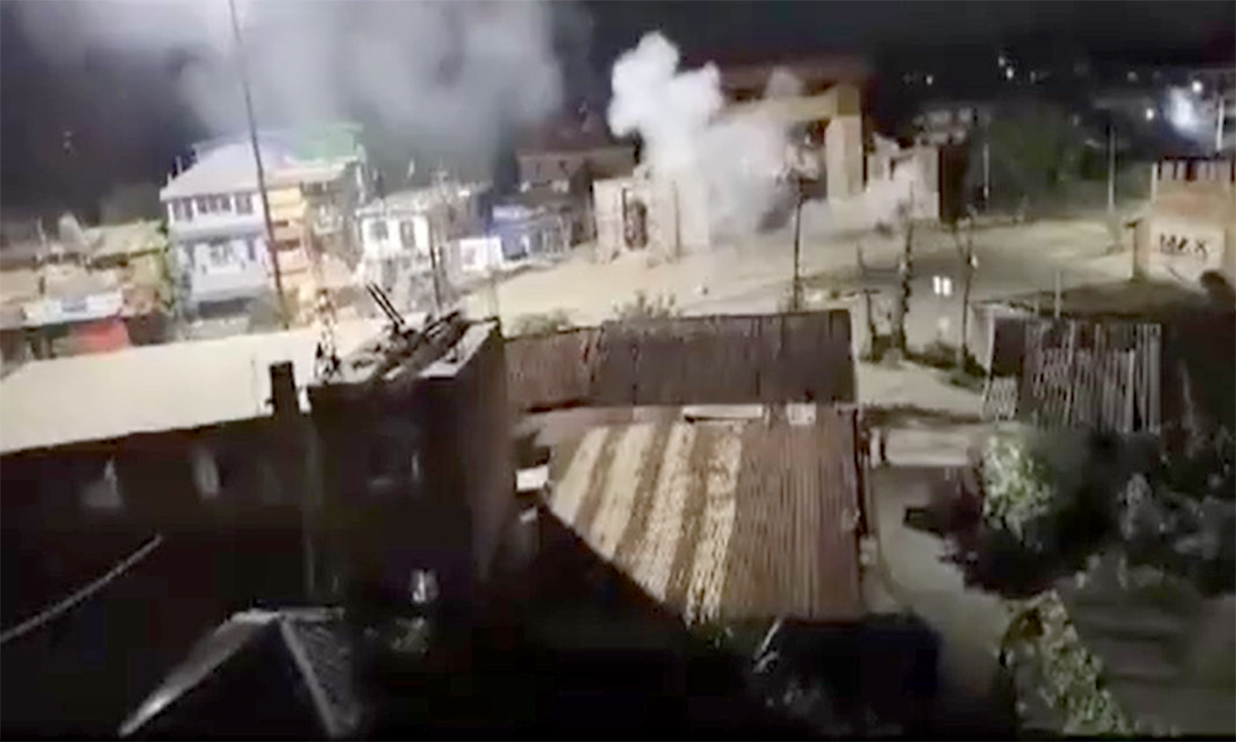 Imphal: Tensions flared in Manipur as an enraged crowd, numbering in the hundreds, gathered outside the private residence of Chief Minister N Biren Singh in the Heingang area of Imphal East. Security forces successfully prevented their attempt to breach the premises, according to PTI sources. Notably, the residence was unoccupied at the time of the incident.
Earlier, the district magistrate of Imphal East had announced a temporary relaxation of movement restrictions, allowing for a window between 5 am and 11 am on Friday for the entire district. However, this relaxation coincided with a fresh outbreak of violence in the Imphal Valley, stemming from the tragic deaths of two youths whose images had triggered widespread protests across the northeastern state.
The parents of the deceased youths had appealed to the authorities to locate their children's remains, underscoring the importance of conducting their final rites with the dignity they deserved. Subsequently, protests erupted, mainly led by students, in various areas of the state capital, including Uripok, Yaiskul, Sagolband, and Tera. The clashes between protesters and security personnel prompted the use of tear gas shells to maintain order.
To impede the advance of security forces into residential areas, demonstrators obstructed roads with burning tires, boulders, and iron pipes. Additionally, an enraged mob vandalized the District Commissioner's office and set two vehicles on fire. In a separate incident, a BJP office in Khongjam, Thoubal district, was also set ablaze, as reported by the police.
Subsequently, curfew was reinstated in both Imphal East and West districts as security forces grappled with the ongoing violent protests, which had resulted in injuries to 65 demonstrators since Tuesday. Police initiated a search operation to recover stolen firearms and apprehend those responsible for the disturbances.
The Manipur Police issued a statement asserting their commitment to taking stern action against individuals involved in criminal activities.