Amit Shah in Bidar rally:Modi magic will work not only in North East but also in Karnataka
Bidar: Union Home Minister Amit Shah launched BJP's Vijaya Sankalpa Yatra in Basava Kalyana (Bidar Rally) at Ther Maidan on Friday.
The results of Tripura, Nagaland, Meghalaya were announced yesterday and the Congress has been annihilated from these states and they have lost in an invisible way. It was said that BJP cannot enter North East, but for the second time BJP and NDA government is forming there. "PM Modi's magic will work everywhere, be it North East, Gujarat, UP or Karnataka, it will work everywhere," he said.
By increasing financial assistance under the PM-Kisan scheme, we have brought overall prosperity in the state by developing infrastructure to ensure the welfare of farmers. For development, security and prosperity of the state and the nation, vote for Modiji, vote for BJP.
PFI ban by Modi government is a good decision. And our double engine government is working with double-speed. On the other hand, Congress and JDS have never ensured development in Karnataka. Both JDS and Congress are family parties. They never think about the welfare of people. Sparked that they are inclined towards fulfilling their selfish motives.
Siddaramaiah has done nothing but become an ATM for a family settled in Delhi. He promoted nothing but corruption. I request all of you (Bidar Rally) to never give any chance to such people and never put yourself in danger.
Our government is ensuring great development in Karnataka and following Article 371J. Special package from Rs. 3,000 crore in the last budget. 5,000 crore in this year's budget for that. He said it was given.
He said that this place can never forget the contributions of Sardar Patel who helped free the region and the nation from Nizam's grip with the help of police action.
Indira Gandhi insulted Nijalingappa. Rajiv Gandhi insulted the powerful leader Virendra Patil ji at the airport. He questioned how the Congress, which insults party leaders, would respect Karnataka.
The level of Congress party under the leadership of Rahul Gandhi is declining day by day. They are shouting slogans like 'Modi teri kabr khudegi', Aam Aadmi Party is saying 'Modi aku saiiri'. God will not listen to him by saying these words because 130 crore people of the country are praying for Modi ji's long life. He said.
State Government Has Only 35 Days To live: UT Khader Criticizes The Government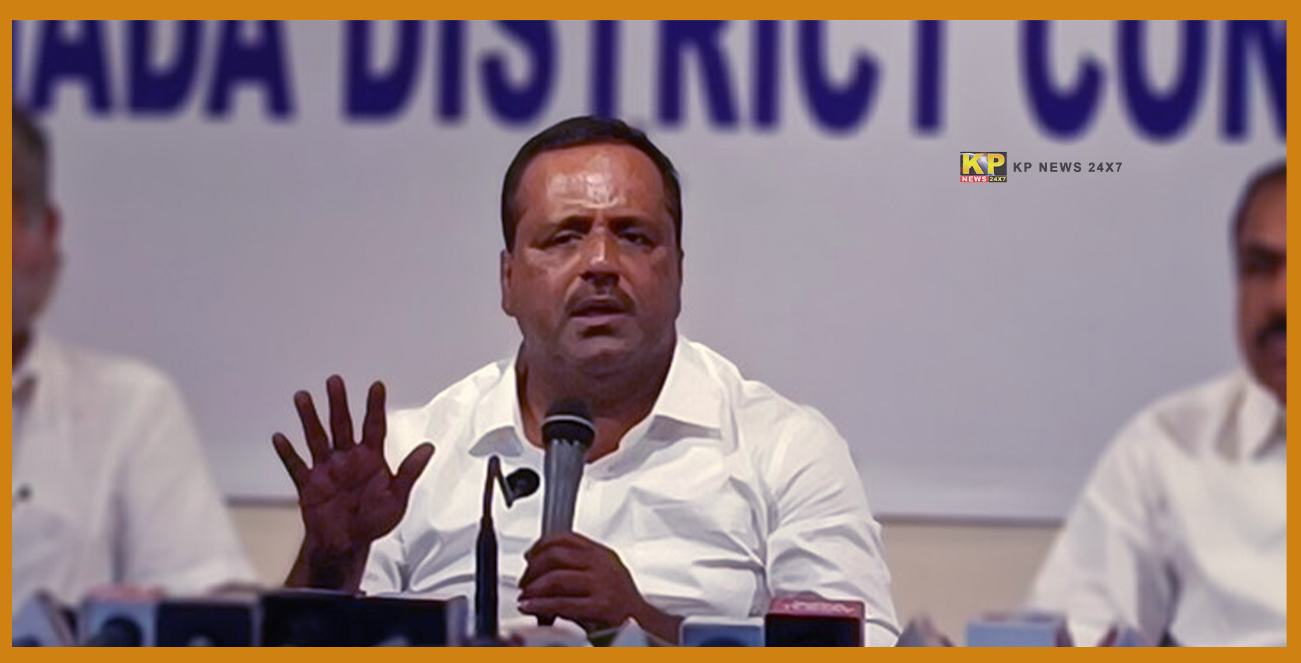 Mangaluru: The BJP -led state government has only 35 days, and instead of doing a good job in the rest of the day, instead of cleaning its black dot, the government has been busy with its shop. Khadar has criticized the government.
Addressing a news conference on Monday at the city's circuit house, UT Khadar complained that the government has come forward to neglect the people of the civilian workers and the water problem, and the government has come forward to address the issue of civilian workers who have been protesting for the past one week.
The protests of civilian workers have caused concern for the health problem along with cleanliness in the city. He criticized the people of the city for the protests of civilian workers if the government was already stunned by corruption.
The administration in the state has fallen completely and the students are disturbed by the first degree classes. If you go to the RTO office there is no RC print card. However, UT Khadar said the BJP government is busy Vijaya Sankalpa Yatra.
I learned history as a child. It is known that the British were killed by Tipu Sultan. However, he responded to a question from reporters about Urigowda and Nanjegowda, who is currently in the past.
Bengaluru Autorickshaw Unions Demand: Ban on Rapido bike taxi
Auto drivers have expressed their ire over Rapido bike taxi service which has badly hit them.
The bandh will be observed till midnight on Monday and the people who are depending on auto services would be severely hit in Bengaluru.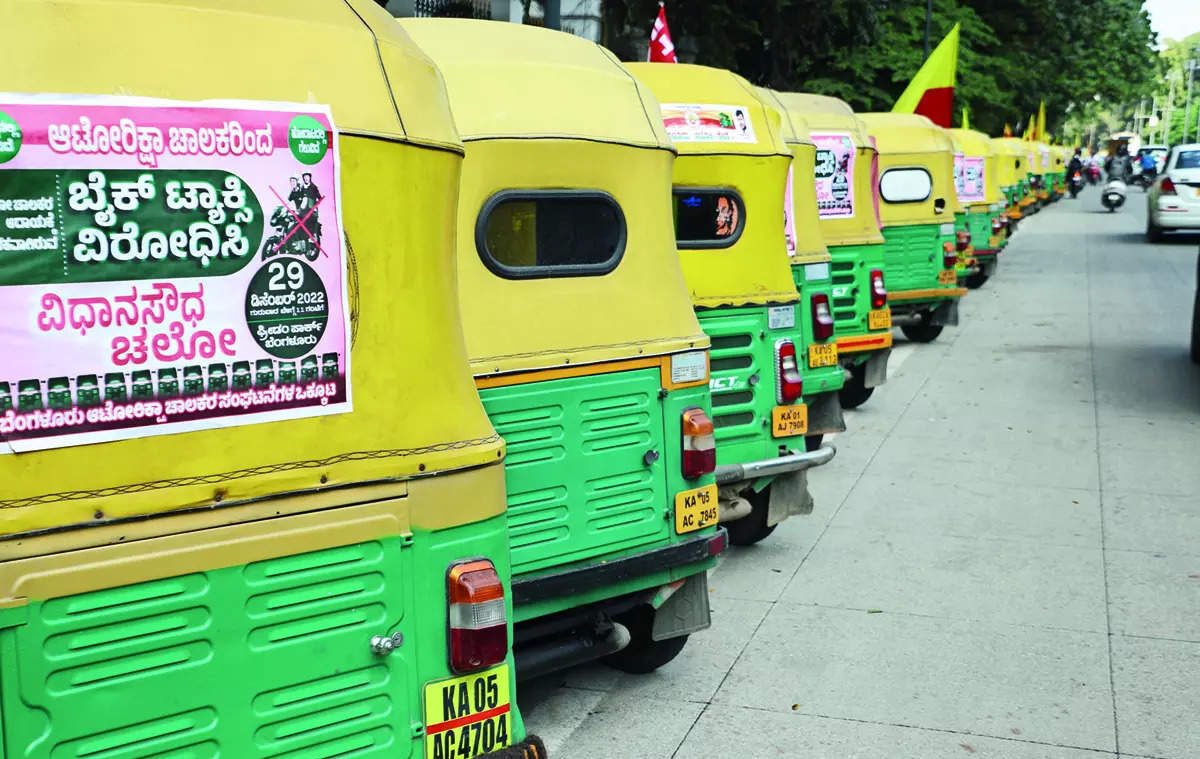 Bengaluru: Autorickshaws will not travel on Bengaluru on Monday as auto unions have called for a one-day strike against the state government's decision to allow e-bike taxis. Unions have demanded that the use of two -wheelers (White Board bike) as bike taxis be prohibited.
The State Transport Department has allowed a private company bounce to manage 100 e-bike taxis in the city to improve the first and last mile connection under its Electric Bike Taxi Scheme. 25 per 5 km, Rs. 50 per 10 km. The rate is fixed by the department.
Recently, an auto driver was arrested for warning that a bike taxi rider crossed over, a helmet was broken and a bike taxi was found to have serious consequences.
"People are using their personal white board bikes and scooters by linking their vehicles to companies like Rapido. This is illegal. Kovid is eating the income of nearly two lakh auto drivers who have already suffered revenues," said Manjunath, convener of the Union of Bangalore Auto Drivers' Union.
Realizing the problem of auto drivers, Maharashtra and Delhi bike taxi have been banned. "Autos must obtain licenses, follow many rules and ensure the safe travel of their passengers. But there are no rules for White Board taxis and there are many events that will compromise passenger safety, he said.
"We want the state government to impose a similar ban and help auto drivers live a decent life," he said and the strike will start from midnight on Sunday and end on Monday at midnight.
Members of the protesting organizations will hold an auto rally from the city's Central Railway Station to the residence of the chief ministers this morning and demand that the chief ministers be addressed.
Boring Response: Boring response to the auto strike by some associations in Bengaluru. Opposing bike taxis from Rapido, Uber etc. Auto drivers are focusing on trip at a specified meter fee.
CM Bommai to launch Yuva Shakti Sangh Yojana
Chief Minister Basavaraj Bommai to launch Swami Vivekananda Yuva Shakti Sangh Yojana on 23rd
Bengaluru: Chief Minister Basavaraj Bommai will launch the Swami Vivekananda Yuva Shakti Sangh Yojana on 23rd of this month. In this regard, today the Chief Minister held a meeting with senior government officials and Zilla Panchayat Chief Executive Officers and received information about the progress of the formation of associations.
Women's Self Help Groups have been active for many years. But for the youth to take up self-employment for the first time, such a scheme has been devised, and Zilla Panchayat Chief Executive Officers should act with high priority. As a joint venture group, your work does not end with the round of funding allocation. These groups indicated that you need to guide them until they identify a project, get a loan from a bank, set up their enterprise and start production.
The consultants assigned to identify the projects should be trained by the experts in the respective field as per the project undertaken by the youth. He said that only then the project can be successful. While lending to Yuva Shakti Sanghs, if the project amount is high and they become profitable projects, the banks will give Rs 5 lakh as per government. The Chief Minister advised the bankers to support the youth by sanctioning loans above the limit.
Youth Empowerment, Sports and Silk Minister Narayana Gowda, Youth Empowerment and Sports Department Additional Chief Secretary Dr. Shalini Rajneesh, Principal Secretary to Chief Minister N. Manjunath Prasad and other senior officers attended the meeting.
Progress of the project so far: There are a total of 5,951 gram panchayats in the state, under the Swami Vivekananda Yuva Shakti Yojana, an order was issued on 8th of this month with the concurrence of the finance department to form two joint responsibility groups for each gram panchayat. Accordingly, a total of 6,509 Joint Obligation Groups will be formed by the end of March 2018. 5,393 Joint Undertaking Groups are yet to be formed.
Already, revolving fund has been disbursed to 754 joint venture groups at Rs.10,000/- each at a total cost of Rs.1.75 crores. 100 sample proposals have been submitted to banks, out of which around 551 projects have been submitted for approval and loan sanction by banks.
General Service Center, State Bank of India and NLM to carry out bank linkage, account opening and bank loan related activities of Swami Vivekananda Yuva Shakti Yojana. A total of 7, 300 B.C. from and by the bankers. The services of sakhis are being obtained and they are being given an incentive of Rs.2000/- from nationalized banks and Rs.4000/- from cooperative banks.