BBMP presents budget for 2023-24 with a whopping Rs.11,158 thousand crores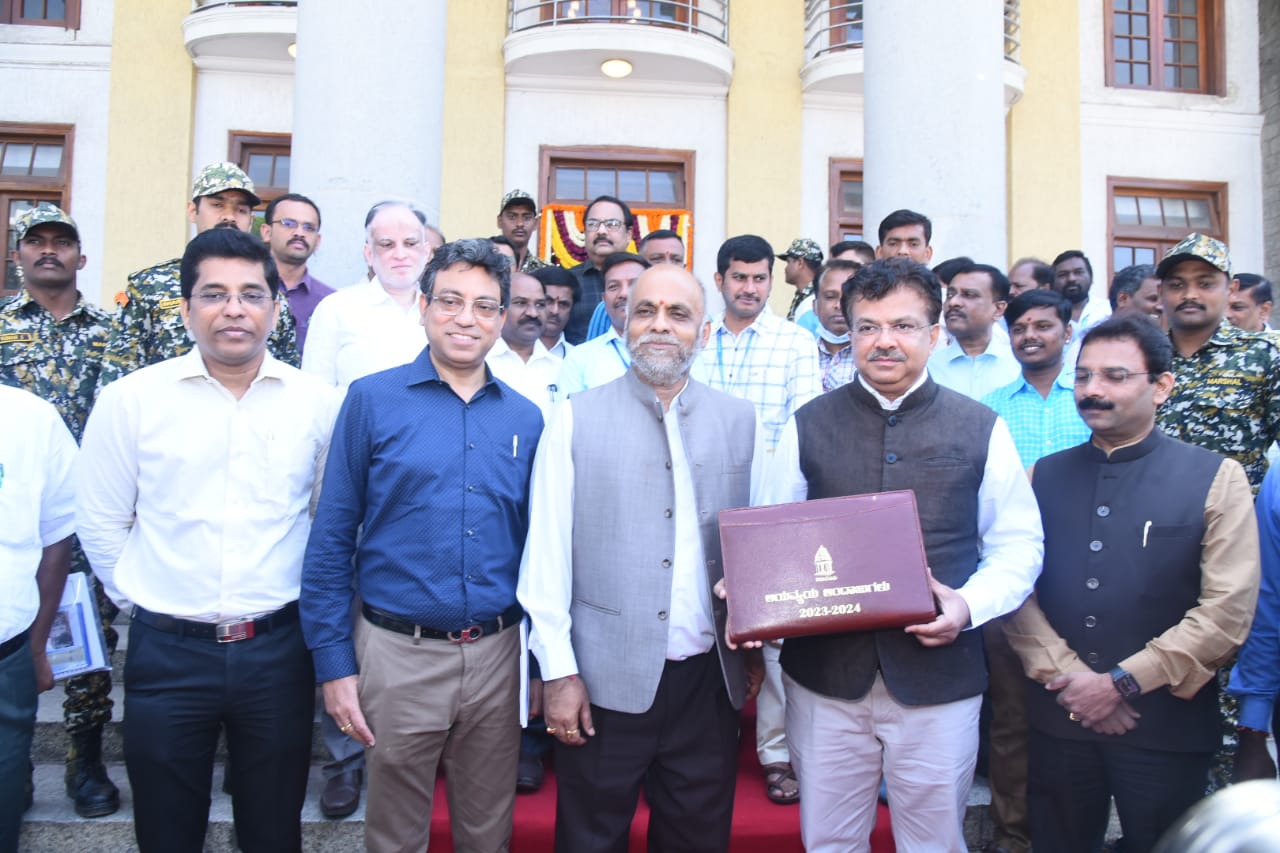 Bengaluru: The BBMP budget for the year 2023-2024 was presented on Thursday, and Special Commissioner of BBMP Finance Department, Jayaram Raipur, presented a budget of Rs.11,158 thousand crores.
Jayaram Raipur presented the current line BBMP budget today in the presence of Chief Commissioner Tushar Giri Nath and Chief Commissioner Tushar Giri Nath presided over by Administrator Rakesh Singh at Sir Puttanna Chetty Purabhavan (Town Hall). In this budget, most of the money has been earmarked for taxes and grants.
Sources of Income:
Revenue from taxes and levies – 4,412 crores (40%)
Non-tax income – 1,331 crore (12%)
Government of India grant – 461 crores (4%)
Government of Karnataka grant – 3,632 crores (33%)
Extraordinary income – 800 crores (8%)
Current Liabilities-Receipts – 520 crores (5%)
Total – 11,15,845.00 (100%)
Presenting the budget, Jayaram Raipura has allocated Rs 25 crore for street vendors' zones. And he announced a total of Rs 210 crore for the construction of overbridges and underbridges. Also, he said that this is a self-sustaining budget.
10 new city plazas will be constructed in many residential areas of the city at a cost of Rs 50 crore to enhance the beauty of Bangalore and attract tourists. He said that these plazas will have fountains, play areas, food stalls and free sitting and resting facilities.
There are many slum areas in Bangalore and redevelopment of 8 slum areas will be taken up in the year 2023-24 at a cost of Rs 80 crore. He said that there is a plan to redevelop all the slum areas in Bengaluru step by step and make the city a slum free area.
There are 42 flyovers and 28 underbridges in Bangalore city and 4 more flyovers and 4 underbridges will be added this year and Rs 20 crore has been earmarked for the maintenance of these flyovers and underbridges including pedestrian tunnels. 20 crores has been earmarked for maintenance of arterial and sub-arterial roads and roads constructed under Tender Sure and under Smart City scheme.
250 She-toilets (her place) will be constructed in the year 2023-24 for the convenience of women traveling on the roads of Bangalore. He said that these 'her places' will have toilet space, space for changing clothes, space for hand washing facility and mobile jogging facilities.
70 crore for signal free corridor from Tumkur Road to Nayandahalli Junction, IISC at Mattikere turn of Gokula Road. Construction of a flyover at a cost of Rs 40 crore using the land provided, construction of a flyover at a cost of Rs 65 crore on Jayamahal Road above the Mekhivrat underpass, 48 night shelters for refugees are already being run by the corporation, and a total of 84 night shelters are to be maintained as per the order of the Supreme Court, additional funds of Rs 3 crore have been released in the 2023-24 budget. is being done.
10,000 laptops are being distributed to poor students of all categories in the year 2022-23. Rs.25 crore has been provided for distribution of laptops in 2023-24 as well. In 2022-23, 8091 sewing machines of good brand are being distributed to selected beneficiaries. 9 crores have been provided for the same project in the year 2023-24.
In the year 2022-23 all the old welfare programs of the Corporation have been taken up again. For the construction of 1500 single houses in this year 2022-23, about Rs 5 lakh each has been given to people of different categories. In the year 2023-24, Rs 100 crore has been earmarked for the implementation of the 2000 single house construction project.
In the year 2022-23, in Amrita Nagarothana Yojana, Rs 160 crore will be spent on building renovation of corporation schools, and Rs 300 crore will be spent on reconstruction of excavated roads. Nigadi, construction of elevated rotary flyover at a cost of Rs 345 crore, Rs 150 crore reserve for development of 75 junctions, Rs 300 crore for reconstruction of excavated roads. Nigadi said that white topping of 150 km road will be done at a cost of 1,410 crores.
JD(S) Loses Secular Status by Aligning with BJP: CM Siddaramaiah
Karnataka CM questions JD(S) on secular claim post BJP alliance for 2024 elections.
Chamarajanagar: Karnataka's Chief Minister, Siddaramaiah, took a pointed jab at the JD(S), led by former Prime Minister H.D. Deve Gowda, on Wednesday. He questioned the party's claim to be secular after forming an electoral alliance with the BJP for the upcoming 2024 Lok Sabha elections.
The JD(S) recently made the decision to join forces with the BJP following a meeting between its leader and former Chief Minister, H.D. Kumaraswamy (the son of Deve Gowda), Home Minister Amit Shah, and BJP National President J.P. Nadda in New Delhi.
Addressing reporters in Konanakere district, Siddaramaiah remarked, "They have now forged an alliance with the BJP for the elections, so what should we call them? The name suggests 'secular,' but are they still secular? Can we believe what they claim? Even after aligning with a communal party, can they still be considered secular? Let them align with the BJP or anyone else; we don't object to that. But they shouldn't claim to be secular; that's all. The Janata Dal should not portray itself as a secular party."
JD(S) had previously formed governments in coalition with both the BJP and Congress, serving for 20 months from January 2006 and 14 months from May 2018, with Kumaraswamy as the Chief Minister on both occasions.
Earlier in the day, Kumaraswamy criticized Congress leaders for suggesting that Deve Gowda had proven JD(S) to be the "B-team" of the BJP by forming an alliance with them. He argued that had he chosen to align with the BJP, as per the invitation from Shah, instead of with the Congress after the 2018 Assembly polls, he could have governed for a full five years.
Accusing the Congress of undermining secular forces across the country, Kumaraswamy alleged that they even attempted to "eliminate" the JD(S) after forming an alliance with the party. He pointed out that the JD(S) did not expel Siddaramaiah from the party, countering claims that in 2004, Siddaramaiah had attempted to meet with the then BJP leader M. Venkaiah Naidu in Chennai to explore an understanding and form a government.
In response, Siddaramaiah clarified, "I have never met Venkaiah Naidu. It's true that I met (L.K.) Advani. Advani was formerly part of the Janata Party; that's how I know him, and I did meet him."
Muslim Leaders Resign from JD(S) Following BJP Alliance
JD(S) joins BJP-led NDA; Muslim leaders, including Syed Shafiullah, resign from party roles in response.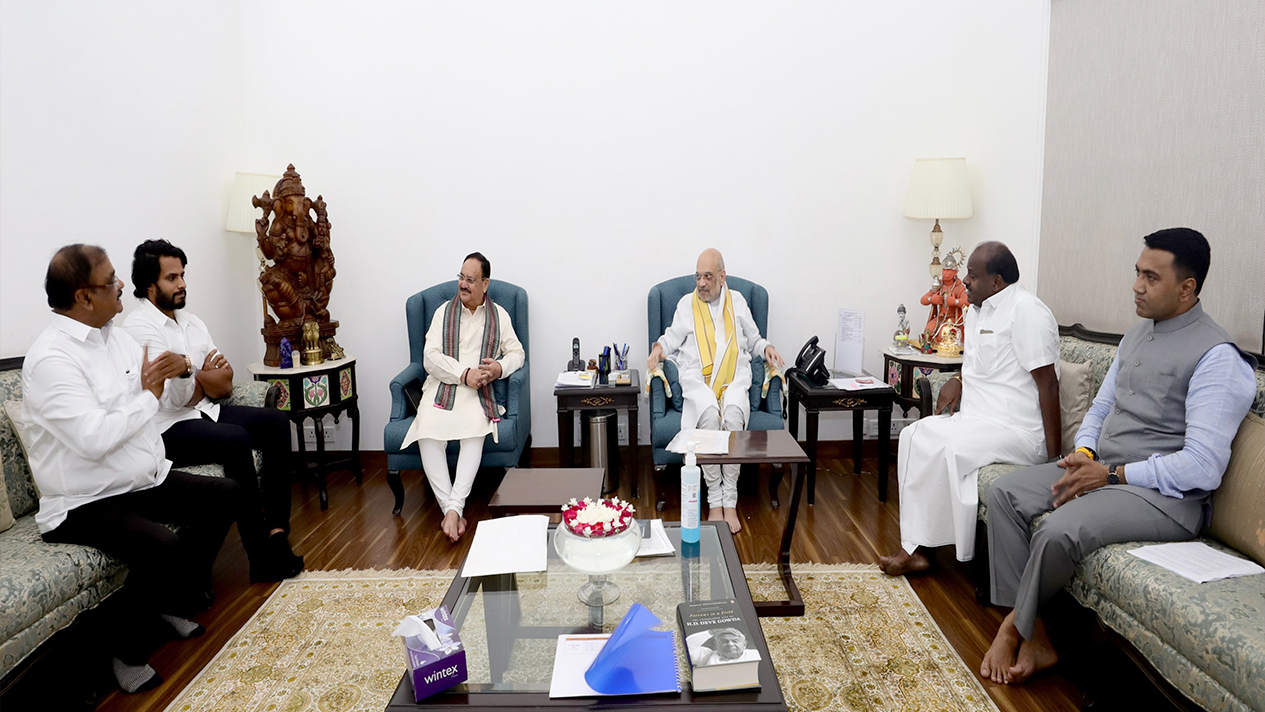 Karnataka:The JD(S) has officially joined the BJP-led NDA in preparation for the upcoming Lok Sabha elections next year. In response to this development, senior Muslim leaders, including Syed Shafiullah, who held the position of the party's senior state vice-president, have resigned from all party positions.
This move by the JD(S) is part of the BJP's efforts to reconfigure its electoral strategy in various states, both for the forthcoming Assembly polls in five states and the imminent general election. The JD(S), under the leadership of former Prime Minister HD Deve Gowda, has affirmed its alliance with the NDA and emphasized its collaboration with the saffron party to challenge the Congress in Karnataka during the Lok Sabha polls.
Syed Shafiullah, the Senior State Vice President of JD(S), decided to resign from the party due to the JD(S)'s decision to form an alliance with the BJP. In his resignation letter, he expressed his commitment to the party's secular principles and cited a previous instance when the JD(S) had aligned with the BJP to form the state government. He also noted his previous decision to stay outside the party during that period.
It's worth mentioning that the JD(S) had previously formed coalition governments with both the BJP and Congress independently, with Kumaraswamy serving as chief minister for 20 months from January 2006 and 14 months from May 2018, respectively.
Shafiullah explained his resignation by stating, "Since the party's senior leaders are now choosing to align with the BJP, I have no choice but to submit my resignation to the party's Senior Vice President Office of the State and also my Primary Membership of the Party."
According to a report by Deccan Herald, several other prominent figures, including former minister N M Nabi, former New Delhi representative Mohid Altaf, youth wing president NM Noor, and former minority wing chief Nasir Hussain Ustad, are also leaving the regional party.
Mangaluru Coal Lorry Owners Declare Indefinite Strike Starting Sep 25
Lorry owners in Mangaluru are set to strike from September 25, demanding higher transport fees for coal delivery, citing rising operational costs and minimal price increases by coal buyers.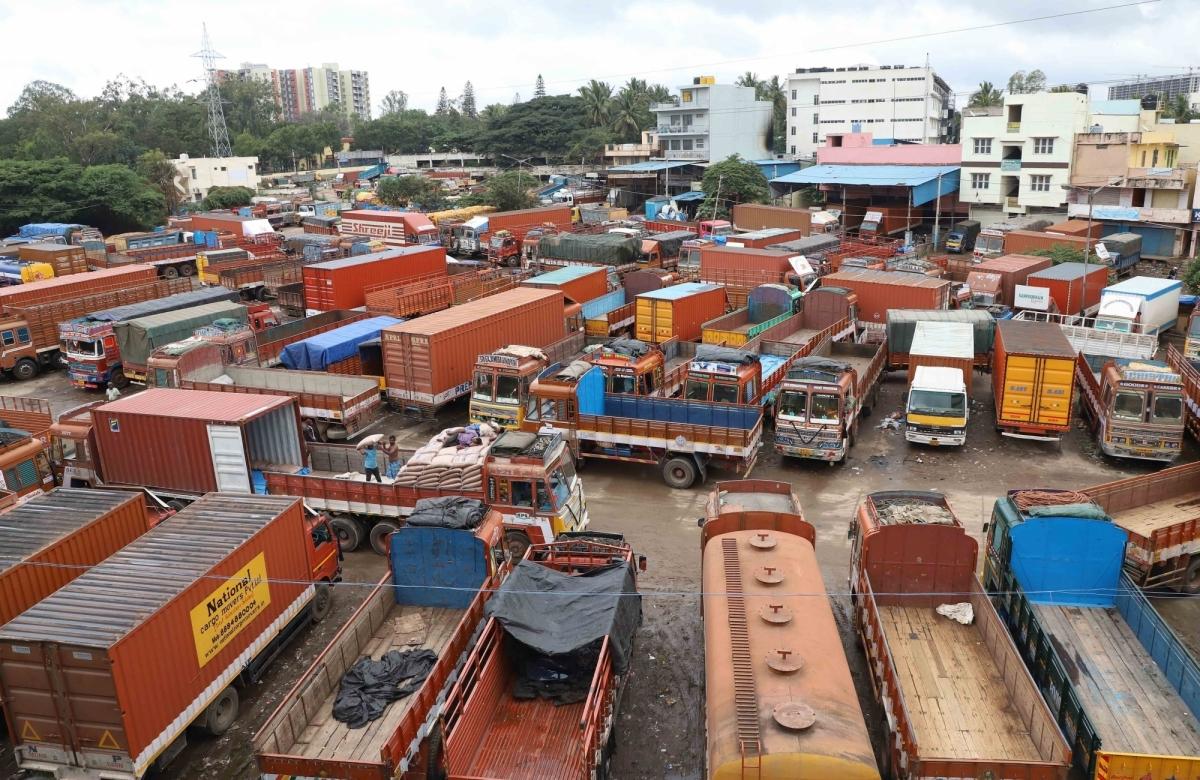 Mangaluru: Lorry owners who transport coal from Navamangaluru port (NMP) to steel, sugar and paper industries in different parts of the state have decided to go on indefinite strike from September 25 demanding hike in transport cost and other demands.
There are 2000 trucks supplying coal from NMP to steel industries in Bellary and Koppal and to sugar and paper industries in Shivamogga, Mysuru and Chamarajanagar districts. On an average, 300 coal-laden trucks leave the port every day.
"Our operational cost has doubled in the last five years, coal buyers have increased the transportation cost by only Rs 100-150 per tonne, which is causing loss to the truck owners," said Sushant Shetty, president of Dakshina Kannada Lorry Owners Association.
"In the last five years, the price of a truck (14-wheeler) has gone up from Rs 30 lakh to Rs 40 lakh, tire from Rs 16,000 to Rs 28,000, road tax to Rs 2,000. But the cost of fuel and spare parts has doubled. But only coal buyers have increased their freight cost by Rs 100. He accused.
1,300 per tonne of coal supply to Koppal. And the Lorry Owners' Association has urged the government to allocate Rs 1,400 to Bellary. A fortnight ago, the association had appealed to the district administration to resolve their grievances. But as there was no response, the lorry owners decided to go on strike.