Centre Urges Supreme Court to Reject Same-Sex Marriage Challenges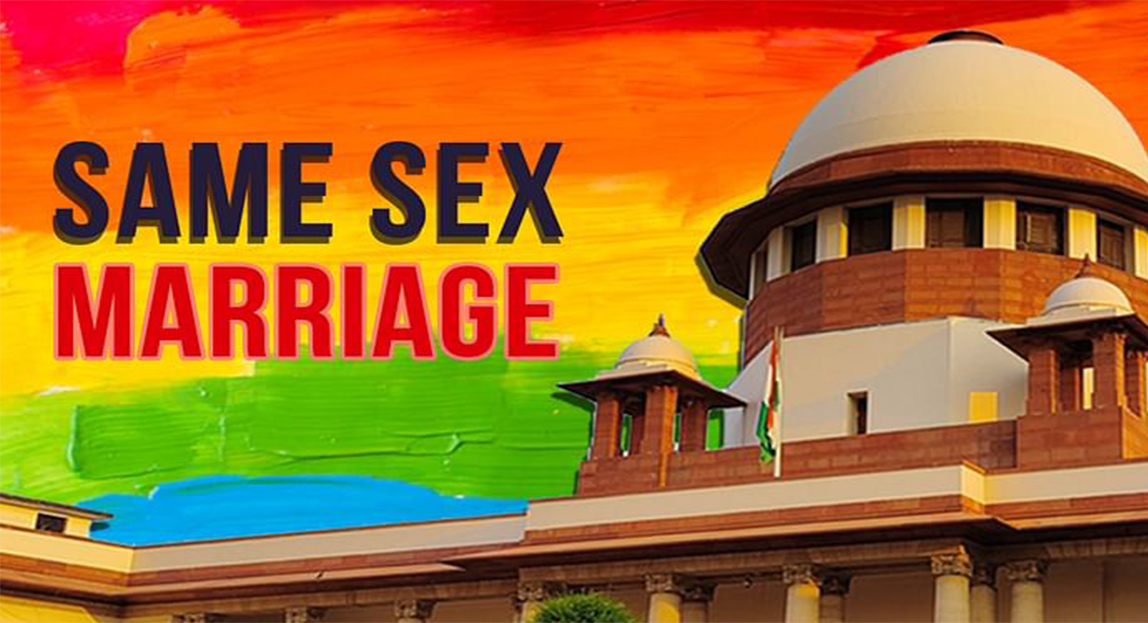 New Delhi: The Centre's recent filing to the Supreme Court of India reiterating its stance against same-sex marriage has sparked controversy and debate across the country. In its affidavit, the Centre stated that same-sex marriage is not compatible with the concept of an "Indian family unit," which includes a husband, a wife, and children born out of their union. It argued that same-sex marriage violates existing personal and codified law provisions and cannot be recognized under the country's legal framework.
Despite the decriminalization of Section 377 of the Indian Penal Code, which criminalized consensual same-sex relationships, the Centre has maintained that LGBTQ+ couples do not have a fundamental right to same-sex marriage. The affidavit urged the Supreme Court to reject the challenges to the current legal framework lodged by LGBTQ+ couples.
The Centre also claimed that living together as partners and having a sexual relationship, which is now decriminalized, is not comparable to the concept of an Indian family unit. It argued that marriage necessarily presupposes a union between two persons of the opposite sex and that this definition is ingrained into the very idea and concept of marriage.
The Centre further emphasized that the parties entering into marriage create an institution with its own public significance, and that seeking legal recognition for same-sex marriage has far-reaching ramifications beyond simple recognition. Family issues are far beyond mere recognition and registration of marriage between persons belonging to the same gender, the affidavit added.
Several gay couples in recent months have asked the Supreme Court to recognize same-sex marriages, setting the stage for a legal face-off with the Narendra Modi-led Union Government. However, the Centre argued that it would not be permissible to change the entire legislative policy of the country deeply embedded in religious and societal norms. Amongst Hindus, marriage is a sacrament and a holy union for performance of reciprocal duties between a man and a woman. In Muslims, it is a contract, but again is envisaged only between a biological man and a biological woman.
The Centre's stance on same-sex marriage has drawn criticism from LGBTQ+ activists and their supporters across India. Many believe that the Centre's argument that same-sex marriage violates existing law provisions is outdated and discriminatory. The Indian LGBTQ+ community has fought for years for equal rights and recognition under the law, and the Centre's recent filing is seen by many as a step back in this fight.
The Supreme Court's decision on this matter will be closely watched, as it will have far-reaching consequences for the LGBTQ+ community in India. The legal recognition of same-sex marriage could go a long way in addressing the discrimination and stigma faced by the community, while the rejection of such recognition would further marginalize and isolate LGBTQ+ individuals in the country.
In conclusion, the Centre's recent filing to the Supreme Court reiterating its stance against same-sex marriage has sparked debate and controversy across India. The LGBTQ+ community and their supporters view the Centre's argument as outdated and discriminatory, while the Centre maintains that same-sex marriage violates existing law provisions and is not compatible with the concept of an Indian family unit. The Supreme Court's decision on this matter will have far-reaching consequences for the LGBTQ+ community in India.
Tamil Nadu to Host 1,000 Daily Fever Camps, Intensifies Mosquito Control
The Tamil Nadu health department has compiled lists for villages and cities, instructing districts to implement disease-prevention measures accordingly.
In response to the growing threat of mosquito-borne diseases, the government of Tamil Nadu has taken decisive measures to safeguard public health. Starting this Sunday, the state will establish 1,000 fever clinics daily to address this pressing concern.
To combat the mosquito menace, the government is intensifying its mosquito control initiatives. These efforts include increased fogging operations, the recruitment of additional workers for mosquito control tasks, and a heightened focus on eliminating mosquito breeding grounds.
In addition to these actions, the Tamil Nadu government is launching comprehensive awareness campaigns aimed at educating the public about the risks associated with mosquito-borne diseases.
According to reports in The Hindu, the Directorate of Public Health and Preventive Medicine in Tamil Nadu has issued guidelines specifying that fever clinics should be established in areas with either three or more cases of fever with cough or confirmed positive cases of diseases such as dengue, leptospirosis, scrub typhus, and seasonal flu. Furthermore, the government has initiated door-to-door campaigns to identify and isolate such cases.
The Tamil Nadu health department has undertaken meticulous planning, compiling lists of affected villages and cities to facilitate targeted disease prevention efforts. Officials have affirmed their dedication to eradicating mosquitoes, raising awareness, identifying fever cases, and promptly implementing preventive measures where needed.
Health Minister Ma Subramanian disclosed that over 23,000 temporary workers have been enlisted across the state to support mosquito control operations. Moreover, government hospitals have been directed to maintain ample supplies of life-saving drugs, blood test kits, blood components, and the necessary blood reserves for treating various diseases.
The government's current focus revolves around combating diseases like dengue, diarrhea, typhoid, and fever. In the state capital of Chennai, Minister Subramanian revealed that a formidable workforce comprising 318 medical officers, 635 nurses, 954 permanent mosquito control workers, and 2,324 contract workers is diligently working to contain these diseases and curtail the spread of mosquitoes.
The minister also detailed the impressive inventory of equipment available in Chennai, including 424 sprayers, 120 power sprayers, 300 battery-operated sprayers, 324 hand fumigation machines, one small fumigation machine, and 68 vehicle-mounted fumigation machines, all geared towards combatting the mosquito population. These comprehensive efforts reflect the Tamil Nadu government's commitment to safeguarding the health and well-being of its citizens in the face of mosquito-borne diseases.
Jaipur Communal Tensions Following Biker's Tragic Death
Biker fatally beaten in confrontation after motorcycle accident, succumbing to injuries.
Jaipur, Rajasthan: Communal tensions flared up in the Ramganj area and its vicinity in Jaipur, Rajasthan on Saturday, stemming from a tragic incident involving a motorcycle collision that led to a man's demise.
According to the police, the unfortunate incident occurred at the Subhash Chowk locality in Jaipur. It was reported that after a collision between two motorcycles, a group of men allegedly assaulted one of the riders, resulting in his untimely death.
Late on Friday night, the collision transpired within the Subhash Chowk area, whereupon a group of men accompanying one of the motorcycle riders reportedly subjected the other rider, identified as Iqbal, to a brutal assault. Iqbal sustained severe injuries and was promptly rushed to the SMS Hospital. Tragically, he succumbed to his injuries while receiving medical treatment.
In the aftermath of this distressing incident, numerous shops in the predominantly Muslim-populated areas have been shuttered. Family members of the deceased, along with local residents, have congregated and are now demanding justice and punitive action against those responsible for the attack, as reported by PTI.
To quell the escalating tensions, additional police forces have been deployed in the region, and concerted efforts are underway to defuse the volatile situation, according to statements from the police to PTI.
A purported video of the incident has surfaced on social media platforms, although its authenticity cannot be independently verified at this time.
In a significant development, six individuals have been apprehended in connection with the case. Additionally, authorities have announced compensatory measures for the family of the deceased, as reported by India Today. The publication quoted the Jaipur Administration as stating, "A compensation of Rs 50 lakh, along with employment opportunities and a dairy booth, has been announced for Iqbal's family. According to police sources, six individuals have been detained in connection with the case."
Father of Ujjain Rape Suspect Calls for Son's Execution
People who didn't aid the raped, injured, and naked 12-year-old girl may face child sex abuse law charges, A senior officer of the state police said.
Ujjain: The father of the man arrested in connection with the alleged rape of a 12-year-old girl in Ujjain on Friday has called for his son to receive the death penalty. Meanwhile, the local bar association has appealed to lawyers not to defend the accused in court. The victim, a 12-year-old girl, was discovered walking on the city streets in a wounded condition, desperately seeking assistance from passersby who unfortunately turned her away.
The injured girl is currently receiving treatment at the Government Maharaja Tukojirao Holkar Women's Hospital in Indore, where she underwent a major surgical procedure on Wednesday. A senior state police official has indicated that individuals who failed to assist the young girl when she went from door to door seeking help after the assault, which left her naked and bleeding, could potentially face charges under child sexual abuse laws. Such individuals may be charged under the POCSO Act for failing to report or register the commission of a crime, according to an NDTV report.
Bharat Soni, an auto-rickshaw driver, was taken into custody in connection with the case on Thursday. His father expressed his deep shame over the incident, stating, "It is a disgraceful act. I have not visited the hospital to see him, nor will I go to the police station or court. My son has committed a crime, and he should face the ultimate punishment, which is hanging," as he conveyed his sentiments to reporters. It should be noted that Soni sustained injuries while allegedly attempting to flee during the investigation, according to the police's statement on Thursday.
The Congress party has criticized the BJP government in Madhya Pradesh, where assembly elections are scheduled by year-end. Congress spokesperson Supriya Shrinate alleged that the state's law-and-order situation had significantly deteriorated under the leadership of Chief Minister Shivraj Singh Chouhan.
"In Madhya Pradesh, being a Dalit, tribal, or woman has seemingly become a crime. The state ranks highest in cases of minor rape. During Chouhan's 18-year tenure, there have been 58,000 reported rape cases and 68,000 reported kidnapping cases. Yet, the country's prime minister, home minister, and all BJP leaders remain conspicuously silent," Shrinate conveyed to reporters in Delhi.
The distressing incident, captured by a CCTV camera, depicts the 12-year-old girl, partially undressed and bleeding following the assault, desperately seeking assistance from neighbors who callously refused her aid. Furthermore, in a shocking display of heartlessness, one individual can be seen shooing her away as she approaches him for help.