External Affairs Minister Jaishankar Slams George Soros' Comments on Indian Democracy
Sydney: Sydney recently witnessed a session at the Raisina@Sydney Dialogue where External Affairs Minister S Jaishankar criticized billionaire investor George Soros for his views on India's politics. Mr Jaishankar referred to Soros as an "old, rich opinionated, and dangerous person" who still thinks that his views should determine how the entire world works. He accused Soros of investing resources in shaping narratives and influencing electoral outcomes.
Mr Jaishankar further stated that people like Soros believe that an election is only good if the person they want to win does so. If the results throw up a different outcome, they will say that it is a flawed democracy. Soros advocates for an open society but uses it as a pretence to achieve his own agenda.
Soros had earlier accused PM Modi and Adani of being close allies, and had claimed that the Adani group was involved in stock manipulation. Jaishankar responded by stating that India was a democratic country with an electoral process that is not questioned. He added that Soros's suggestion of planning to strip millions of Muslims of their citizenship was ridiculous.
Globalisation provides seamless opportunities but also allows for the shaping of narratives and the manipulation of agendas. Jaishankar criticised Soros's scaremongering tactics, which create a fear psychosis and damage the societal fabric.
Union Minister of Women and Child Development, Smriti Irani, also criticised Soros for wanting to break Indian democracy. She stated that his desire to fund over one billion dollars to target leaders like PM Modi is a significant threat. Irani warned that democracy has prevailed in India and will continue to do so under PM Modi's leadership.
The BJP has lashed out over Soros's comments, and Irani's response has been echoed by party members. They have asserted that they will fight any attempt to weaken Indian democracy.
Soros's remarks have caused a stir in India, and the criticism from Indian officials is likely to escalate. The billionaire investor has a reputation for supporting liberal causes and has been an outspoken critic of governments that do not align with his views.
India, on the other hand, has a history of democratic processes, and its citizens take pride in participating in the electoral process. The criticism levelled at Soros is reflective of the country's resilience in protecting its democracy.
As globalisation continues to shape the world, countries like India will face challenges from those who seek to manipulate narratives and influence political outcomes. The response from Indian officials shows that they will not allow such attempts to weaken their democracy.
The exchange between Jaishankar and Soros highlights the need for open dialogue and critical thinking. Both sides have the right to express their views, but they should be prepared to face criticism for their comments.
In conclusion, the criticism levelled at Soros by Indian officials highlights the country's commitment to protecting its democracy. The response also shows that the country is aware of attempts to manipulate narratives and influence political outcomes. As the world becomes more connected, countries must be prepared to face such challenges and stand firm in protecting their democratic processes.
Jaipur Communal Tensions Following Biker's Tragic Death
Biker fatally beaten in confrontation after motorcycle accident, succumbing to injuries.
Jaipur, Rajasthan: Communal tensions flared up in the Ramganj area and its vicinity in Jaipur, Rajasthan on Saturday, stemming from a tragic incident involving a motorcycle collision that led to a man's demise.
According to the police, the unfortunate incident occurred at the Subhash Chowk locality in Jaipur. It was reported that after a collision between two motorcycles, a group of men allegedly assaulted one of the riders, resulting in his untimely death.
Late on Friday night, the collision transpired within the Subhash Chowk area, whereupon a group of men accompanying one of the motorcycle riders reportedly subjected the other rider, identified as Iqbal, to a brutal assault. Iqbal sustained severe injuries and was promptly rushed to the SMS Hospital. Tragically, he succumbed to his injuries while receiving medical treatment.
In the aftermath of this distressing incident, numerous shops in the predominantly Muslim-populated areas have been shuttered. Family members of the deceased, along with local residents, have congregated and are now demanding justice and punitive action against those responsible for the attack, as reported by PTI.
To quell the escalating tensions, additional police forces have been deployed in the region, and concerted efforts are underway to defuse the volatile situation, according to statements from the police to PTI.
A purported video of the incident has surfaced on social media platforms, although its authenticity cannot be independently verified at this time.
In a significant development, six individuals have been apprehended in connection with the case. Additionally, authorities have announced compensatory measures for the family of the deceased, as reported by India Today. The publication quoted the Jaipur Administration as stating, "A compensation of Rs 50 lakh, along with employment opportunities and a dairy booth, has been announced for Iqbal's family. According to police sources, six individuals have been detained in connection with the case."
Father of Ujjain Rape Suspect Calls for Son's Execution
People who didn't aid the raped, injured, and naked 12-year-old girl may face child sex abuse law charges, A senior officer of the state police said.
Ujjain: The father of the man arrested in connection with the alleged rape of a 12-year-old girl in Ujjain on Friday has called for his son to receive the death penalty. Meanwhile, the local bar association has appealed to lawyers not to defend the accused in court. The victim, a 12-year-old girl, was discovered walking on the city streets in a wounded condition, desperately seeking assistance from passersby who unfortunately turned her away.
The injured girl is currently receiving treatment at the Government Maharaja Tukojirao Holkar Women's Hospital in Indore, where she underwent a major surgical procedure on Wednesday. A senior state police official has indicated that individuals who failed to assist the young girl when she went from door to door seeking help after the assault, which left her naked and bleeding, could potentially face charges under child sexual abuse laws. Such individuals may be charged under the POCSO Act for failing to report or register the commission of a crime, according to an NDTV report.
Bharat Soni, an auto-rickshaw driver, was taken into custody in connection with the case on Thursday. His father expressed his deep shame over the incident, stating, "It is a disgraceful act. I have not visited the hospital to see him, nor will I go to the police station or court. My son has committed a crime, and he should face the ultimate punishment, which is hanging," as he conveyed his sentiments to reporters. It should be noted that Soni sustained injuries while allegedly attempting to flee during the investigation, according to the police's statement on Thursday.
The Congress party has criticized the BJP government in Madhya Pradesh, where assembly elections are scheduled by year-end. Congress spokesperson Supriya Shrinate alleged that the state's law-and-order situation had significantly deteriorated under the leadership of Chief Minister Shivraj Singh Chouhan.
"In Madhya Pradesh, being a Dalit, tribal, or woman has seemingly become a crime. The state ranks highest in cases of minor rape. During Chouhan's 18-year tenure, there have been 58,000 reported rape cases and 68,000 reported kidnapping cases. Yet, the country's prime minister, home minister, and all BJP leaders remain conspicuously silent," Shrinate conveyed to reporters in Delhi.
The distressing incident, captured by a CCTV camera, depicts the 12-year-old girl, partially undressed and bleeding following the assault, desperately seeking assistance from neighbors who callously refused her aid. Furthermore, in a shocking display of heartlessness, one individual can be seen shooing her away as she approaches him for help.
Mob's Bid to Enter CM N Biren Singh's House in Imphal East, Manipur
Protests and clashes escalate in Imphal's Manipur following tragic youth deaths; curfew reinstated in two districts.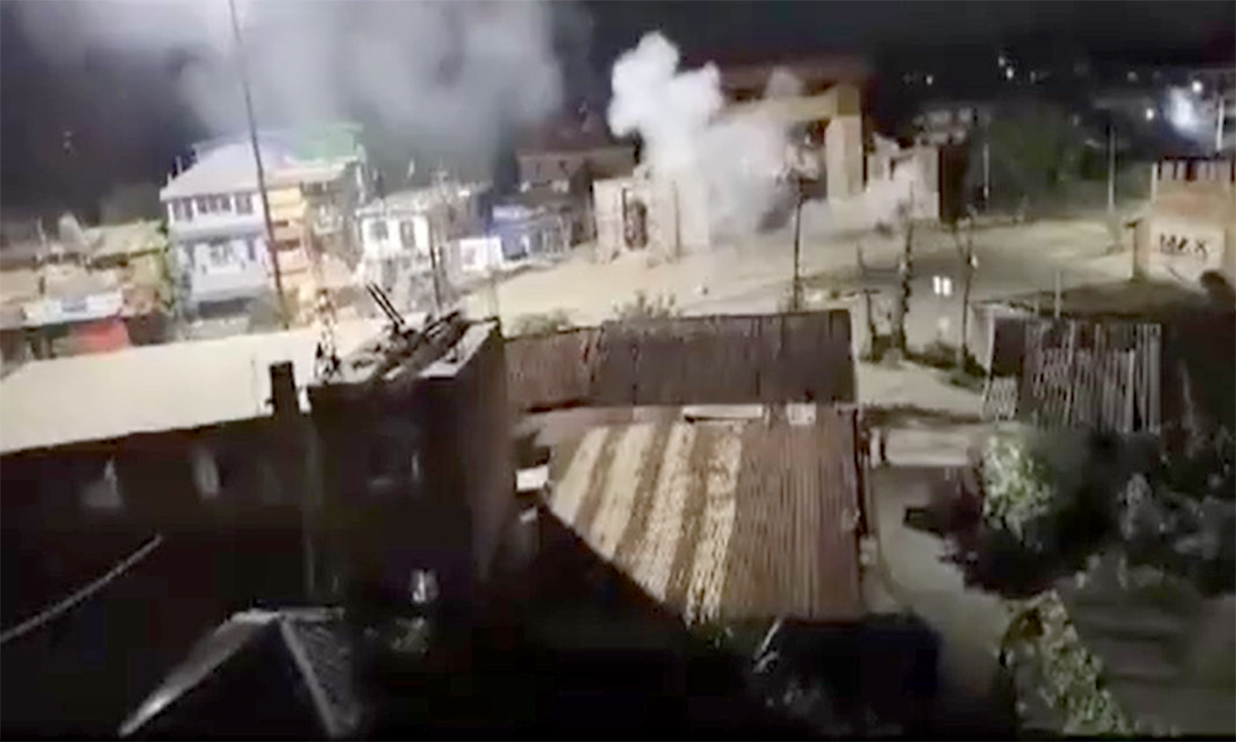 Imphal: Tensions flared in Manipur as an enraged crowd, numbering in the hundreds, gathered outside the private residence of Chief Minister N Biren Singh in the Heingang area of Imphal East. Security forces successfully prevented their attempt to breach the premises, according to PTI sources. Notably, the residence was unoccupied at the time of the incident.
Earlier, the district magistrate of Imphal East had announced a temporary relaxation of movement restrictions, allowing for a window between 5 am and 11 am on Friday for the entire district. However, this relaxation coincided with a fresh outbreak of violence in the Imphal Valley, stemming from the tragic deaths of two youths whose images had triggered widespread protests across the northeastern state.
The parents of the deceased youths had appealed to the authorities to locate their children's remains, underscoring the importance of conducting their final rites with the dignity they deserved. Subsequently, protests erupted, mainly led by students, in various areas of the state capital, including Uripok, Yaiskul, Sagolband, and Tera. The clashes between protesters and security personnel prompted the use of tear gas shells to maintain order.
To impede the advance of security forces into residential areas, demonstrators obstructed roads with burning tires, boulders, and iron pipes. Additionally, an enraged mob vandalized the District Commissioner's office and set two vehicles on fire. In a separate incident, a BJP office in Khongjam, Thoubal district, was also set ablaze, as reported by the police.
Subsequently, curfew was reinstated in both Imphal East and West districts as security forces grappled with the ongoing violent protests, which had resulted in injuries to 65 demonstrators since Tuesday. Police initiated a search operation to recover stolen firearms and apprehend those responsible for the disturbances.
The Manipur Police issued a statement asserting their commitment to taking stern action against individuals involved in criminal activities.