Himanta's wife threatens Rs 10 crore lawsuit against Congress MP for subsidy claim.
Assam CM's wife threatens Rs 10 crore defamation suit against Congress MP for subsidy claim. Company denies receiving government subsidy.
Assam Chief Minister Himanta Biswa Sarma's wife, Riniki Bhuyan Sarma, has issued a stern warning to Congress MP Gaurav Gogoi, threatening to file a defamation lawsuit worth Rs 10 crore in response to Gogoi's assertion that her company, of which she is the CMD, received a Rs 10 crore subsidy from the central government.
In a statement, Riniki Bhuyan Sarma clarified that Pride East Entertainments Pvt Ltd is an independent entity that has been operating since 2006, engaging in diverse sectors. She emphasized that the company complies with all financial regulations, and its financial records are publicly accessible. Like any other eligible enterprise, Pride East Entertainments Pvt Ltd is entitled to participate in government-supported programs and incentive schemes.
However, she asserted that in the case of the PM Kisan Sampada Scheme, her company did not seek or receive any government subsidy, even though it met all the necessary criteria. She characterized Gogoi's claims as an attempt to tarnish the reputation of a 17-year-old Assamese business that has consistently followed the law and is led by a female entrepreneur.
"To safeguard the reputation of our diligent employees from this baseless campaign by Sri Gaurav Gogoi, I am left with no choice but to pursue a defamation case seeking Rs 10 crore in damages against him through legal channels," Riniki stated firmly.
Earlier in the day, a heated exchange took place on social media between the Chief Minister and the Congress MP. Gogoi issued a series of posts defending his position.
Responding to one of Gogoi's posts, Sarma expressed confidence in their upcoming court encounter, stating, "I am confident that we will meet in court, and once again, I will be able to prove my point. I have successfully done so in 2016 and 2021, and I am determined to do it again, both in the People's Court and in a court of law."
Gogoi maintained that Sarma was free to choose his course of action and urged him to attend the Assembly session to address the issue. The House witnessed uproarious scenes regarding this matter on Thursday.
YSRTP-Congress Merger Decision by End of September: Sharmila
YS Sharmila, YSR Telangana Party founder, met party members to plan for upcoming state Assembly polls and will tour all segments from October.
Hyderabad: YSR Telangana Party Founder, Y.S. Sharmila, has announced that a decision regarding potential collaboration with the Congress will be reached by the conclusion of this month. Sharmila, who is the sister of Andhra Pradesh Chief Minister Y.S. Jagan Mohan Reddy, conducted a meeting with senior party officials and members to deliberate on various aspects related to the forthcoming Telangana State Assembly elections, as stated in a press release.
During the meeting, the YSR Telangana Party leader emphasized that the determination regarding cooperation with the Congress would be finalized by the end of September, given the rapidly approaching notification deadline for the assembly polls. In the event that no alliance is forged, the party will proceed to contest in all 119 constituencies, according to the release.
Additionally, Sharmila disclosed plans to embark on a tour of all assembly segments commencing in the second week of October. In today's meeting, she assured party workers that their contributions would be duly acknowledged, and their interests would be safeguarded, as outlined in the release.
There had been speculation that Sharmila would formally engage with AICC leaders during the recent Congress Working Committee meeting held a few days ago. She had previously indicated that her discussions with the Congress party concerning potential collaboration or merger had entered their final stages. Furthermore, Sharmila had met with Sonia Gandhi and Rahul Gandhi in the national capital as part of these discussions.
Pragya Thakur Presents Herself in Court for 2008 Malegaon Blast Case
BJP MP Pragya Thakur appears in court for 2008 Malegaon blast case, citing health reasons for her late arrival.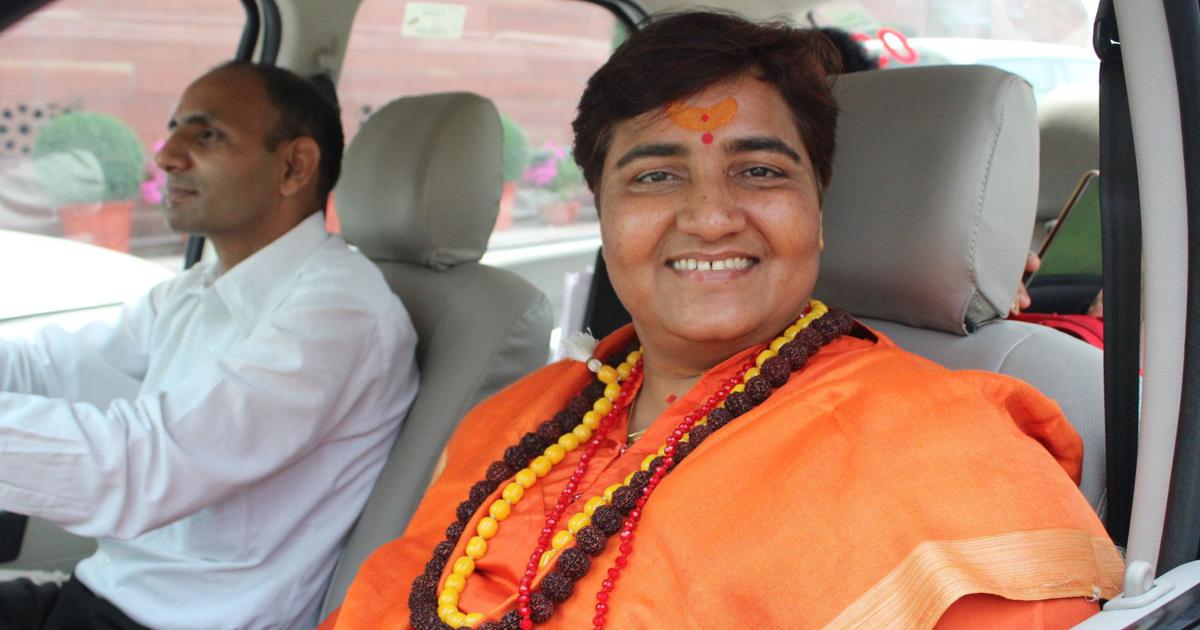 Mumbai: Bharatiya Janata Party MP Pragya Singh Thakur, one of the accused in the 2008 Malegaon blast case, made her appearance in a special NIA court in Mumbai on Monday. Thakur arrived at the court around 2 pm, a couple of hours after the other accused in the case had already presented themselves.
During her court appearance, Thakur cited health issues as the reason for her delayed arrival, explaining that it hindered her ability to wake up early in the morning. As a result of this, the court decided to adjourn the proceedings to October 3, when they would record the statements of all the accused involved.
On September 14, the prosecution had informed the court that the process of collecting evidence for the case had been completed, and there was no need for further examination of prosecution witnesses. Following this, the court typically proceeds to record the statements of the accused under section 313 of the Criminal Procedure Code (CrPC). In this stage, the court poses general questions to the accused, allowing them to personally address any circumstances that may have arisen from the evidence presented against them.
On this particular day, only six of the accused appeared before the court: Pragya Singh Thakur, Lt Col Prasad Purohit, Major (retired) Ramesh Upadhyay, Ajay Rahirkar, Sudhakar Chaturvedi, and Sameer Kulkarni. Sudhakar Dwivedi was notably absent, and his lawyer attributed his absence to religious rituals. However, the court rejected this explanation and issued a bailable warrant of Rs 5,000 against Dwivedi.
The Malegaon blast case dates back to September 29, 2008, when an explosive device attached to a motorcycle detonated near a mosque in Malegaon, a town approximately 200 km from Mumbai in northern Maharashtra. The incident resulted in six fatalities and over 100 individuals sustaining injuries. Initially, the Maharashtra Anti-Terrorism Squad (ATS) handled the investigation, but it was later transferred to the National Investigation Agency (NIA) in 2011.
Bridge Collapse in Surendranagar Gujarat; four injured
Bridge collapse: 40-ton dumper crosses banned bridge on Panchayat road near Wadhwan city, raising safety concerns. Learn more.
In a concerning incident in Gujarat's Surendranagar district, an old bridge over the Bhogavo river collapsed, resulting in injuries to four individuals. The incident transpired on a Sunday evening when a 40-ton dumper attempted to cross the bridge, despite heavy vehicle restrictions on the panchayat road near Wadhwan city. This article delves into the details of this bridge collapse and the circumstances leading up to it.
The Bridge Collapse
The collapse of the bridge occurred suddenly, sending shockwaves through the local community. A dumper, along with two motorcycles, was traversing the bridge when the first slab gave way, causing minor injuries to the four people on it. The heavy vehicle and motorcycles plunged into the Bhogavo river, leading to a chaotic and dangerous situation.
Age and Responsibility
This bridge, now making headlines for all the wrong reasons, had a significant history. It had been serving the community for almost four decades, with the responsibility for its maintenance lying with the state Road and Buildings Department. Despite its age, the bridge was considered safe, but recent events have brought its structural integrity into question.
Warning Signs Ignored
It's worth noting that authorities had taken precautions to prevent such incidents. A warning board was prominently displayed, and barricades were erected to deter heavy vehicles from using the bridge. These measures were taken to ensure the safety of all road users. However, despite these clear warnings and restrictions, a 40-ton dumper ventured onto the bridge, ultimately leading to the collapse of its first slab.
The Aftermath
The aftermath of the bridge collapse has raised important questions about infrastructure maintenance and adherence to safety guidelines. Local authorities are currently assessing the situation, and investigations are underway to determine the exact cause of the collapse. Meanwhile, the injured individuals are receiving medical attention, and efforts are being made to retrieve the vehicles from the Bhogavo river.
Conclusion
In conclusion, the collapse of the bridge in Surendranagar is a stark reminder of the importance of adhering to safety regulations and guidelines. It is imperative that both authorities and citizens exercise caution when using aging infrastructure. This incident highlights the need for proactive maintenance and strict enforcement of vehicle restrictions on such bridges to prevent similar tragedies in the future.