Language is an Expression: Amit Shah Urges People to Embrace Mother Tongue
Amit Shah, at the convocation ceremony of Maharaja Sayajirao University in Vadodara, lauded the new education policy and said it has incorporated the ideas of great men like BR Ambedkar, Sardar Vallabhbhai Patel and others.
Vadodara: Union Home Minister Amit Shah has given his statements many times regarding mother tongue. Once again he has given his statement on mother tongue. He on Saturday emphasized on the importance of mother tongue and urged people to get out of inferiority complex in using it and said that mother tongue is a means of personality development.
Amit Shah, at the convocation ceremony of Maharaja Sayajirao University in Vadodara, lauded the new education policy and said it has incorporated the ideas of great men like BR Ambedkar, Sardar Vallabhbhai Patel and others.
language is an expression
Union Home Minister Amit Shah said that the new education policy also includes Sayari Rao's views on accessible education, Sardar Patel's views on women empowerment and BR Ambedkar's views on education for knowledge. Whatever you do in your life, don't leave your mother tongue. Get out of this inferiority complex that your language will not accept you. Language is an expression.
No one can build personality bigger than mother tongue
Further said that if any person thinks in his own language then he thinks well. If he does his research, his research capacity increases manifold. There can be no medium of personality building greater than mother tongue. I urge all of you to come forward and accept mother tongue.
PM Modi has made mother tongue mandatory in the new education policy
The Home Minister said that he meets people from foreign countries. When they speak with me in English, I ask them what was the language of your country. They look down a bit, we don't even know what the language of our country was. We have the best language. Literature, grammar and poetry in our languages, that's why PM Modi has made mother tongue compulsory under the new education policy.
Shiv Sena MLA Disqualification Hearing Postponed by Maharashtra State Assembly Speaker
Supreme Court instructed Maharashtra Assembly Speaker to report disqualification petition progress and schedule within a week.
Mumbai: Maharashtra State Assembly Speaker Rahul Narvekar has reserved his decision on setting a schedule for the hearings of disqualification petitions filed against Shiv Sena MLAs, opting to consolidate all these petitions. The next hearing is expected to take place on October 13.
In response to the Supreme Court's directive, which required the Maharashtra State Assembly Speaker to submit a progress report and schedule for disqualification petition hearings within a week, Rahul Narvekar summoned both factions of the Shiv Sena for a hearing on Monday. However, the two factions did not reach a consensus on the matter.
During the hearing at Vidhan Bhavan, Speaker Rahul Narvekar emphasized that he is prioritizing justice over haste. He asserted that every MLA facing disqualification should be granted sufficient time to present their case and arguments. "Justice is paramount, and the focus should be on ensuring a fair hearing and resolution of the petitions, rather than rushing the process," the Speaker stated.
Anil Parab, a Shiv Sena MLC (UBT), expressed concerns that the government was merely stalling the proceedings. He pointed out that the Supreme Court had provided clear guidelines for the disqualification of MLAs, yet the hearings continued to be postponed for various reasons. Parab remarked, "Justice delayed is justice denied. If the disqualification cases against Shiv Sena's MLAs are similar in nature, it makes sense for the Speaker to consolidate and address them collectively, rather than prolonging the process with separate hearings. The Supreme Court had stipulated a reasonable timeframe, not an indefinite one, as indicated in recent directives."
Sanjay Shirsat, a Shiv Sena MLA (Shinde), noted that the Speaker had heard their arguments during the Monday hearing. He mentioned that they had requested separate hearings for the disqualification cases, with some members preferring online hearings. Shirsat emphasized the importance of not rushing the resolution of the disqualification petitions and stated, "We are against consolidating the petitions."
Parab mentioned that during the next hearing on October 13, the Speaker would decide whether to consolidate the petitions or hear them separately. He expressed disappointment that the Speaker did not provide concrete updates during the current hearing. Anil Desai, a leader of Shiv Sena (UBT), added, "The Supreme Court has clearly defined key aspects such as identifying the chief whip and distinguishing the political party's legislative and organizational roles. Therefore, there is no justification for further delaying the hearings. We remain confident that the Speaker will deliver justice in our favor."
YSRTP-Congress Merger Decision by End of September: Sharmila
YS Sharmila, YSR Telangana Party founder, met party members to plan for upcoming state Assembly polls and will tour all segments from October.
Hyderabad: YSR Telangana Party Founder, Y.S. Sharmila, has announced that a decision regarding potential collaboration with the Congress will be reached by the conclusion of this month. Sharmila, who is the sister of Andhra Pradesh Chief Minister Y.S. Jagan Mohan Reddy, conducted a meeting with senior party officials and members to deliberate on various aspects related to the forthcoming Telangana State Assembly elections, as stated in a press release.
During the meeting, the YSR Telangana Party leader emphasized that the determination regarding cooperation with the Congress would be finalized by the end of September, given the rapidly approaching notification deadline for the assembly polls. In the event that no alliance is forged, the party will proceed to contest in all 119 constituencies, according to the release.
Additionally, Sharmila disclosed plans to embark on a tour of all assembly segments commencing in the second week of October. In today's meeting, she assured party workers that their contributions would be duly acknowledged, and their interests would be safeguarded, as outlined in the release.
There had been speculation that Sharmila would formally engage with AICC leaders during the recent Congress Working Committee meeting held a few days ago. She had previously indicated that her discussions with the Congress party concerning potential collaboration or merger had entered their final stages. Furthermore, Sharmila had met with Sonia Gandhi and Rahul Gandhi in the national capital as part of these discussions.
Pragya Thakur Presents Herself in Court for 2008 Malegaon Blast Case
BJP MP Pragya Thakur appears in court for 2008 Malegaon blast case, citing health reasons for her late arrival.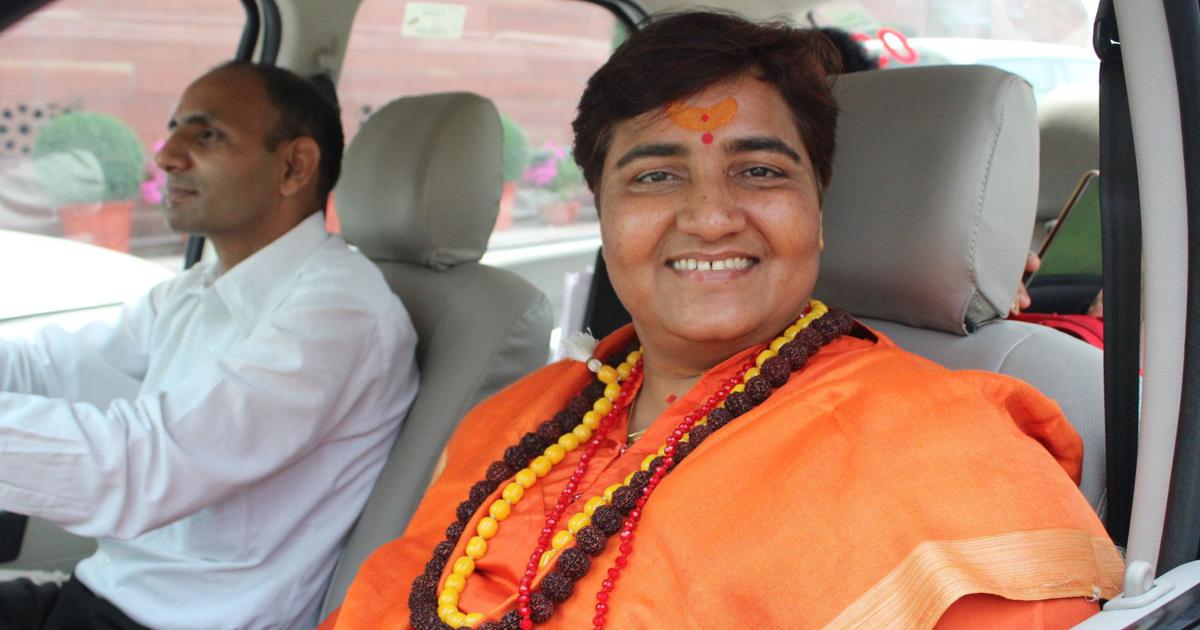 Mumbai: Bharatiya Janata Party MP Pragya Singh Thakur, one of the accused in the 2008 Malegaon blast case, made her appearance in a special NIA court in Mumbai on Monday. Thakur arrived at the court around 2 pm, a couple of hours after the other accused in the case had already presented themselves.
During her court appearance, Thakur cited health issues as the reason for her delayed arrival, explaining that it hindered her ability to wake up early in the morning. As a result of this, the court decided to adjourn the proceedings to October 3, when they would record the statements of all the accused involved.
On September 14, the prosecution had informed the court that the process of collecting evidence for the case had been completed, and there was no need for further examination of prosecution witnesses. Following this, the court typically proceeds to record the statements of the accused under section 313 of the Criminal Procedure Code (CrPC). In this stage, the court poses general questions to the accused, allowing them to personally address any circumstances that may have arisen from the evidence presented against them.
On this particular day, only six of the accused appeared before the court: Pragya Singh Thakur, Lt Col Prasad Purohit, Major (retired) Ramesh Upadhyay, Ajay Rahirkar, Sudhakar Chaturvedi, and Sameer Kulkarni. Sudhakar Dwivedi was notably absent, and his lawyer attributed his absence to religious rituals. However, the court rejected this explanation and issued a bailable warrant of Rs 5,000 against Dwivedi.
The Malegaon blast case dates back to September 29, 2008, when an explosive device attached to a motorcycle detonated near a mosque in Malegaon, a town approximately 200 km from Mumbai in northern Maharashtra. The incident resulted in six fatalities and over 100 individuals sustaining injuries. Initially, the Maharashtra Anti-Terrorism Squad (ATS) handled the investigation, but it was later transferred to the National Investigation Agency (NIA) in 2011.