No Communal Riots in Uttar Pradesh for 6.5 Years, Declining Crime Rates: CM Yogi Adityanath
UP CM Yogi: Touts declining crime rates, improved safety for women, and positive state transformation over the past 6.5 years.
Lucknow: Uttar Pradesh Chief Minister Yogi Adityanath asserted on Monday that the 'double engine' government had gained the confidence of the women of the state when it came to issues of safety and security. Speaking at an event titled 'UP Rising: 10 Years, 10 Changes,' he highlighted that over the past six-and-a-half years, Uttar Pradesh had witnessed a significant reduction in crime rates, without any communal tensions.
"The state is now enjoying a safer environment, as affirmed by the official statistics provided by the National Crime Records Bureau (NCRB), which show a decline in crime across various categories," stated Chief Minister Yogi. He further emphasized that during the 2022 elections, his government's successful track record in maintaining law and order played a pivotal role in securing a resounding two-thirds majority.
"Today, a substantial portion of the state's population feels more secure. Women can travel alone throughout the state without fear, which is a testament to our government's ability to gain the trust of half the population," he noted.
Chief Minister Yogi highlighted the significant transformation that the state had undergone since 2017. "Over the past six-and-a-half years, our government has effectively shifted the perception of Uttar Pradesh from being a backward state to an emerging economy with substantial growth in all sectors. Uttar Pradesh is shedding its negative stereotypes and progressing on a positive trajectory," he affirmed.
He also attributed India's changing global perception as a major force to Prime Minister Modi's leadership, stating that India now holds a position of pride and is taken seriously on the world stage. "Under Prime Minister Modi's guidance, India plays a constructive role in resolving global conflicts and crises," he added.
Chief Minister Yogi noted the prevailing sense of confidence across the country, stemming from the belief that the decisions made by the country's political leadership are in the best interests of both the people and the nation.
Addressing internal security, Chief Minister Yogi recalled a time when 120 districts across the country were plagued by Naxalism and Maoism. "However, today, these challenges are largely limited to Bastar and a few districts in Chhattisgarh," he observed.
Emphasizing the importance of dialogue in democracy, Chief Minister Yogi stressed that it was the most potent tool for resolving even the most significant challenges. He acknowledged the influential role of the media in a democratic society but cautioned that each of the four pillars—legislature, executive, judiciary, and media—must adhere to their defined boundaries to prevent a crisis of trust.
Women's Reservation Bill Scares Political Parties: PM Modi
PM Modi praises women's role in passing the Women's Reservation Bill, inaugurates cricket stadium & schools during Varanasi visit.
Lucknow: Prime Minister Narendra Modi, during his day-long visit to Varanasi on Saturday, credited 'women power' for the passage of the women's reservation bill named 'Nari Shakti Vandan Adhiniyam' at a special session of Parliament earlier in the week. He emphasized that the bill would provide renewed energy, direction, and momentum to women-led development in the country.
During his visit, the Prime Minister also laid the foundation for an international cricket stadium in the presence of cricketing legends and BCCI officials. Additionally, he inaugurated 16 Atal Residential Schools (ARS) designed to benefit underprivileged and orphaned children. Addressing a gathering of women during his 42nd visit to Kashi over the past nine years, the Prime Minister acknowledged the historical influence of women leaders.
"The Nari Shakti Vandan Adhiniyam, which had been pending for three decades, has now become a reality. Your strength compelled even those political parties who were initially opposed to it to support the bill in both Houses of Parliament," Modi said, giving credit to the women of the country. He added, "Your awareness and unity have made all Indian political parties tremble, and that's why this bill was passed—this is your strength."
The Prime Minister indirectly addressed those who had objections to the term "Vandan" in the bill, stating, "Who would be respected and worshipped if our mothers and daughters were not?"
During his visit, the Prime Minister was warmly welcomed by women who showered flower petals on him as a gesture of gratitude for the passage of the women's reservation bill. Speaking at the Sampurnanand Sanskrit University grounds in Kashi, Modi highlighted the historical recognition of women's leadership in India. He praised the valor and strength of figures like Rani Lakshmibai and Ahilyabai Holkar, emphasizing their contributions to India's history.
"From Rani Lakshmi Bai and her freedom struggle to the achievements of Mission Chandrayaan in modern India, we have consistently demonstrated the power of women's leadership in every era," the Prime Minister remarked.
"Kashi is the holy city of Mother Kushmanda, Mother Shringar Gauri, Mother Annapurna, and Mother Ganga. The glory of their power is embedded in every corner of this place. Therefore, after the passage of Nari Shakti Vandan Adhiniyam, I came to Kashi first to seek your blessings," he added.
Earlier in the day, alongside UP CM Yogi Adityanath and cricketing legends including BCCI chairman Roger Binny, Sunil Gavaskar, Sachin Tendulkar, Kapil Dev, Ravi Shastri, Dilip Vengsarkar, Gundappa Vishwanath, Madan Lal, Karsan Ghavri, BCCI secretary Jay Shah, and vice-chairman Rajeev Shukla, the Prime Minister laid the foundation stone for a Rs 451 crore International Cricket Stadium. Designed with attributes inspired by Lord Shiva, this stadium will be the first sports facility in UP developed with the assistance of the BCCI, with an investment of Rs 330 crore from the BCCI and the rest from the UP government. The Prime Minister expressed confidence that the stadium would not only benefit athletes but also boost the economy of eastern UP (Purvanchal), becoming a symbol of India's promising future.
The Prime Minister concluded his visit to Kashi by inaugurating 16 Atal Residential Schools (ARS), including one in Varanasi's Karsara locality, built at a cost of Rs 1115 crore across all 18 divisions of the state. He dedicated these schools to children from disadvantaged backgrounds and those who lost their parents during the pandemic, highlighting his vision of combining development with heritage conservation. He expressed hope that these ARS facilities would nurture India's future leaders, who would excel in both education and other pursuits.
NIA Seizes Properties of Sikh Separatist Gurpatwant Singh Pannun
NIA seizes assets of Sikh separatist Gurpatwant Singh Pannun linked to Nijjar's murder, Pannun faces terrorism charges.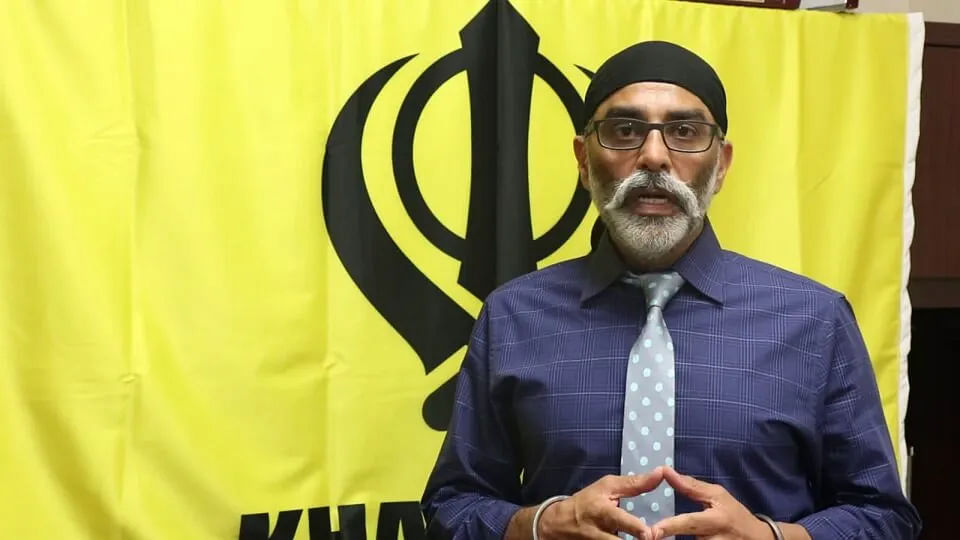 New Delhi: The National Investigation Agency (NIA) took action on Saturday by seizing the assets of Gurpatwant Singh Pannun, a prominent Sikh separatist believed to be residing in Canada and closely associated with the late Hardeep Singh Nijjar. The killing of Nijjar has become a source of diplomatic tension between India and Canada.
Gurpatwant Singh Pannun, a lawyer who was designated as a terrorist by Indian authorities in 2020, is wanted on charges of terrorism and sedition.
He is also known for founding the US-based organization Sikhs For Justice (SFJ), where Nijjar was the head of its Canadian chapter before he was assassinated by masked individuals near Vancouver in June.
SFJ, which has been banned in India, has been an outspoken advocate for the establishment of an independent Sikh homeland known as Khalistan.
This diplomatic dispute escalated this week when Canadian Prime Minister Justin Trudeau suggested that there were credible reasons to believe that the Indian government was involved in Nijjar's death.
In response, India dismissed Trudeau's allegations as absurd, leading to reciprocal diplomatic expulsions and a suspension of visa processing for Canadians.
Pannun entered the fray and released a video in which he urged Canadian Hindus to return to India, accusing them of adopting a jingoistic stance by aligning with India.
During an interview with an Indian news channel, Pannun revealed that he had been a close associate of Nijjar for more than two decades, describing him as a younger brother. He also held India responsible for Nijjar's assassination.
Following the airing of this interview, the government issued an advisory to news networks, urging them to avoid providing a platform to individuals accused of heinous crimes.
Armed with court orders, NIA officials seized Pannun's residence in Chandigarh, the capital of the Sikh-majority state of Punjab. Additionally, they confiscated agricultural land owned by him in Amritsar. The NIA accused Pannun of actively inciting Punjab-based gangsters and youth on social media to advocate for the independent state of Khalistan, thereby challenging the country's sovereignty, integrity, and security.
Chandrayaan-3: No Signal from Vikram and Pragyan, ISRO's Contact Efforts Persist
Rover Pragyan and lander Vikram of Chandrayaan-3 entered sleep mode on Sept 2 and 4 after lunar experiments during daylight.
The Indian Space Research Organisation (ISRO) announced on Friday that efforts have been underway to reestablish communication with Chandyayaan 3's lander, Vikram, and rover, Pragyan. As of now, no signals have been received from either of them. An official had initially indicated that the resurrection plan would be postponed to Saturday, citing undisclosed reasons.
Nilesh Desai, Director of Space Applications Centre, had stated, "Our initial plan was to reactivate the Pragyan rover and Vikram lander on the evening of September 22nd, but due to certain reasons, we will now proceed with the operation on September 23."
Following successful experiments conducted on the lunar surface throughout the daytime, the rover and lander entered sleep mode on September 2 and 4, respectively. The integrated solar panels were positioned to capture light at dawn, ensuring that the batteries remained charged while the devices were in sleep mode.
If the resurrection process proves successful tomorrow, the mission will be granted an extended lease of life. This extension will enable scientists to obtain additional samples and continue their exploration of the lunar surface.
Regarding the findings of Rover Pragyan, during its 14-day operational phase, both the Vikram Lander and Pragyan rover conducted numerous lunar experiments, surpassing their listed objectives. They covered a distance of over 100 meters on the lunar surface and confirmed the presence of Sulphur (S) near the south pole of the moon.
The Vikram lander also conducted groundbreaking measurements of the near-surface lunar plasma environment over the south polar region.
Initially, ISRO had planned for the rover to cover a distance of 300-350 meters. However, due to certain constraints, the rover has thus far moved only 105 meters.