Yassavi Jaiswal sets rare record with double century and century in same innings against Madhya Pradesh
Madhya Pradesh: India's young batsman Yassavi Jaiswal has set a rare record against 2020-21 Ranji champions Madhya Pradesh in the only Test match of the ongoing Irani Trophy in Gwalior. By scoring a double century and a century in the same innings against Madhya Pradesh, the bushy-mustached lad exuded confidence to emerge as a promising player for the Indian team. In this match, Jaiswal scored 213 and 144 runs in a single innings.
Meanwhile, Jaiswal, who is running a stream of runs in domestic cricket, has broken the record of 332 runs scored by veteran Indian batsman Shikhar Dhawan in 2012-13. Shikhar's 332 with the bat was said to be the highest score in a match so far. But by hitting 357, Jaiswal broke Shikhar's record.
Apart from that, he also holds the distinction of being the 12th player to score a double century and a century in a single match in first-class cricket. India's Duleep Singh became the first Indian to score a double century and a century in the match between Sussex and Kent.
Sunil Gavaskar holds the record of being the only Indian batsman to achieve this feat in an international match by blasting 124 in the first innings and 220 in the second innings against the West Indies in 1970-71.
In the Irani Trophy match against Madhya Pradesh, Yasshav Jaiswal scored 213 runs from 259 balls for Shesha India, thereby becoming the 10th batsman to score a double century in the history of Irani Trophy.
ABD wrote a poignant letter to RCB fans, his eyes brimming with tears.
Former RCB players Chris Gayle and AB de Villiers were honored in the Hall of Fame at the same event. Also the 333 and 17 jersey numbers he wore have been permanently retired.
Bengaluru: The Royal Challengers Bangalore team, which is preparing for the new season of IPL, had an unboxing event a few days ago. RCB's new jersey was also unveiled in front of thousands of fans gathered at Chinnaswamy Maidan in Bangalore.
Former RCB players Chris Gayle and AB de Villiers were honored in the Hall of Fame at the same event. Also the 333 and 17 jersey numbers he wore have been permanently retired.
ABD who was involved in this program has written emotionally. Here is the Kannada version of the letter written by ABD on Facebook account.
"I really don't know where to start..
On March 26, 2023, Chris and I were inducted into the RCB Hall of Fame and our jersey numbers were retired forever. My heart swelled as my wife, two boys and a little girl walked up the stairs to enter our RCB den. I have walked in several times with the feeling of butterflies in my stomach. It felt strange to walk there in a different state of mind.
Tears filled my eyes as I walked to the balcony of our dressing room at Chinnaswamy opposite the packed stadium. I never thought I would ever be able to beat the cry of 'ABD ABD' the first time, but this time was different. The emotion was intense as well as an overwhelming hunger to win, but this time it was a sea of emotion that filled my body, grateful to have spent time in a place that represented a proud city, an amazing franchise and extraordinary teammates.
Sophie Devine: hit 9 fours and 8 impressive sixes in 36 balls.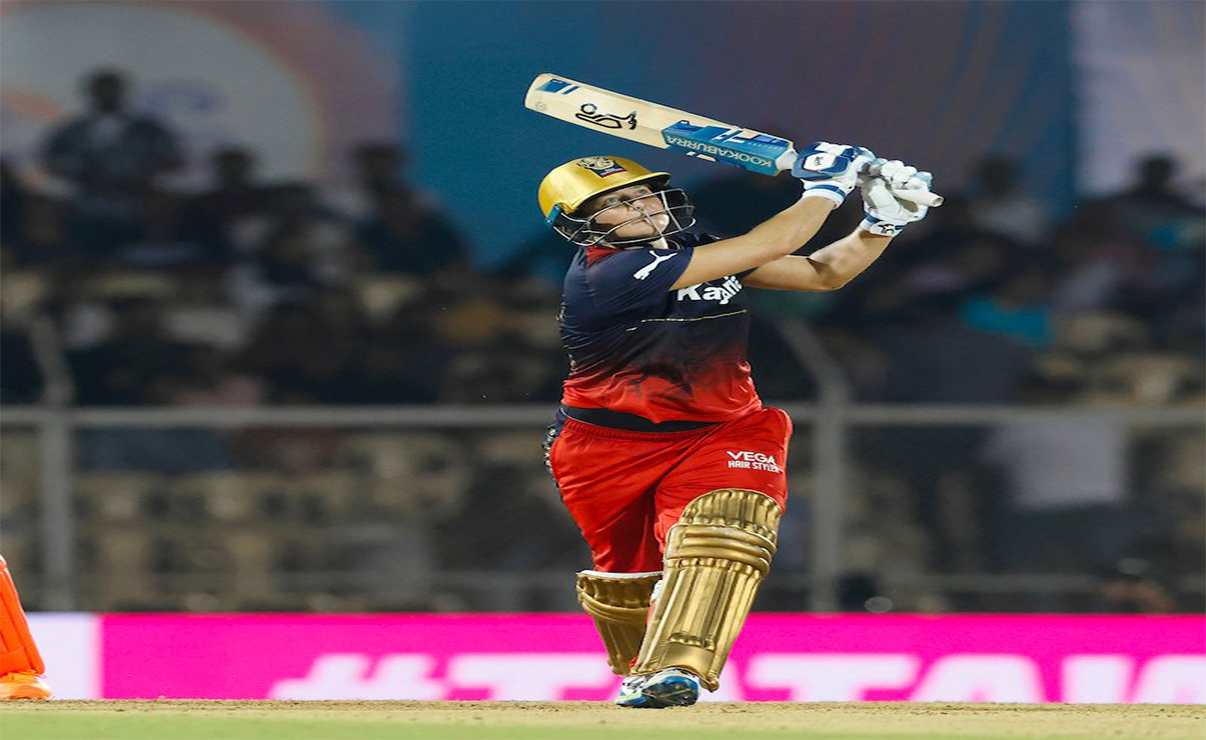 Mumbai: In the exciting match of the Vanitas Premier League held here on Saturday at the Brabourne Stadium, RCB opener Sophie Devine suffered a huge disappointment as she stumbled on the threshold of a century with a spectacular performance.
Sophie, who punished the Gujarat Giants bowlers with a thunderous batting performance, hit 9 fours and 8 impressive sixes in 36 balls.
As soon as Ashwani Kumari was about to celebrate his century by scoring 99 runs, Kam Garth left the ball thrown by him.
Gujarat Giants won the toss and elected to bat. They scored 188 for the loss of 4 wickets. Dunkley 16, Wolward 68, Sabbineni Meghna 31, Gardner 41, Hemalatha 16 not out and Harleen Deol 12 not out.
Chasing the target, RCB roared from the start. Captain Smriti Mandhana got out after scoring 37 runs while Sophie Devine was hitting hard shots. Ellis Perry 19, Heather Knight 22 runs
After reaching the target of 189 runs for the loss of 2 wickets in 15.3 overs, RCB celebrated the victory.
India Wins Three-Match ODI Series Against Australia with KL Rahul's Timely Play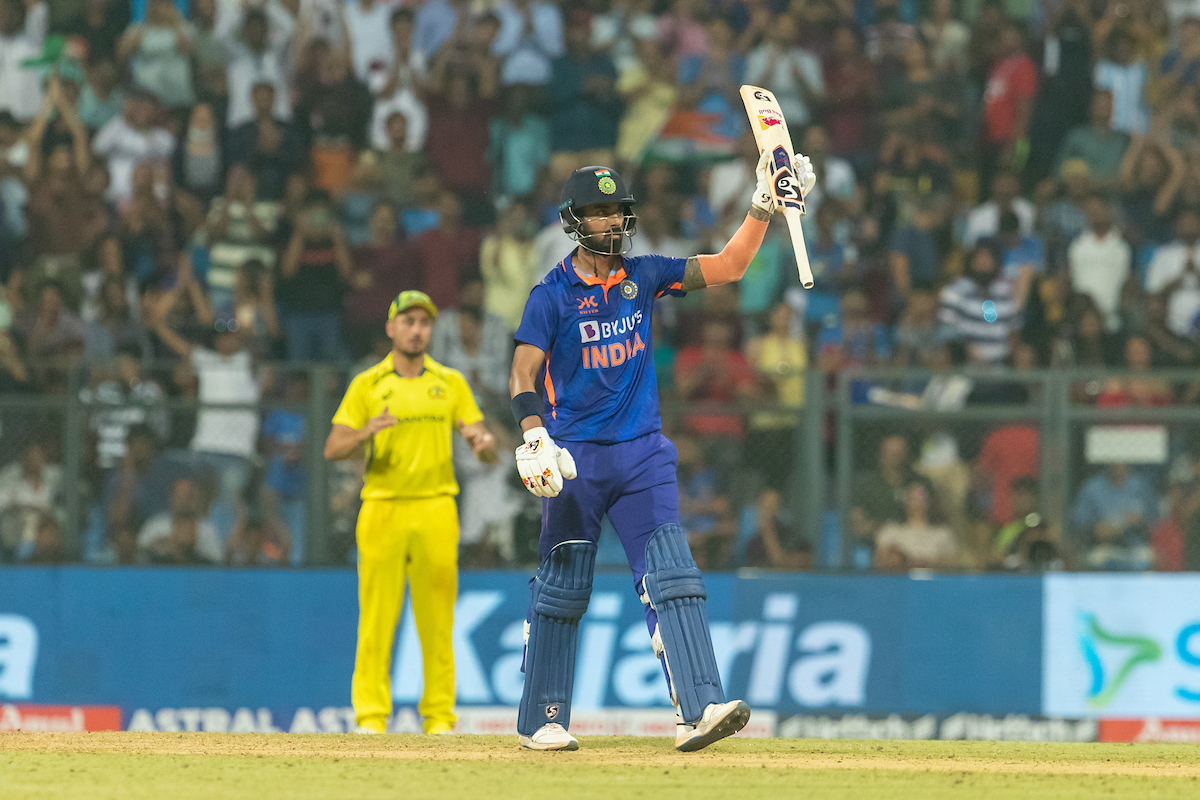 Mumbai: India won the three-match ODI series against visiting Australia in a thrilling match on Friday. K.L. A 5-wicket victory was achieved with the help of Rahul's timely play.
Indian captain Hardik Pandya won the toss and elected to bowl, restricting the Aussies to 188 runs in 35.4 overs. Opener Head is out for 5 runs. Mitchell Marsh who fought alone scored 81 runs and got out. Captain Steven Smith departed after scoring 22 runs. Labuschagne scored 15 runs, wicket keeper Josh Inglis scored 26 runs, Green scored 12 runs. The rest of the players did not cross single digits.
Among the Indian bowlers who had a tight bowling attack, Shami and Siraj took 3 wickets each, Ravindra Jadeja took 2 wickets, Pandya and Kuldeep Yadav took one wicket each.
Chasing the target, India lost the wicket of Ishan Kishan who had scored 3 runs before reaching 5 runs. Virat Kohli was dismissed for 4 runs. Shubman Gill contributed 20 runs. Suryakumar Yadav departed for zero. For Kohli and Yadav though, the pacey Starc is deadly. Both were lbw and sent to the pavilion. Captain Hardik Pandya was dismissed after scoring 25 runs.
KL Rahul's timely play played a big role in the team's victory. Having lost 4 wickets for 39, when he was in trouble, Rahul played a patient game. He faced the Aussie bowling attack effectively and scored a half-century to ensure victory. Ravindra Jadeja who supported him for the 6th wicket made a significant contribution in the victory. He had a partnership of 108 runs. The team scored 191 runs for the loss of 5 wickets in 39.5 overs and won by 5 wickets.
Rahul remained unbeaten on 75 off 91 balls with 7 boundaries and 1 impressive six. Jadeja remained unbeaten on 45 off 69 balls and was part of the victory celebration.
Mitchell Starc took 3 wickets for Aussies. Marcus Stoinis took 2 wickets.