Chandrayaan-3 Triumphs: Successfully Enters Moon's Orbit
India's Chandrayaan-3 triumphs, enters Moon's orbit! ISRO confirms successful maneuver, on track for lunar exploration.
Bengaluru: the Indian Space Research Organisation (ISRO) announced on Saturday that Chandrayaan-3 has successfully entered orbit around the Moon.
The crucial Lunar Orbit Insertion (LOI) maneuver was completed with precision at approximately 7 pm, according to an official statement from ISRO. Shortly after the maneuver's success, the official Twitter handle for Chandrayaan-3, @chandrayaan_3, tweeted the confirmation at 7:53 pm on Saturday.
ISRO further reassured that all systems aboard the spacecraft are functioning flawlessly. The health of Chandrayaan-3 is being continuously monitored from the Mission Operations Complex (MOX) at ISRO Telemetry, Tracking and Command Network (ISTRAC) in Bengaluru, where experts are meticulously overseeing the mission's progress.
"The next Lunar bound orbit maneuver is scheduled for tomorrow (August 06, 2023), around 23:00 hrs IST," the tweet added, indicating that ISRO's meticulous planning and execution continue to be on track.
The spacecraft, launched on July 14, successfully executed four orbit-raising maneuvers before being slingshot towards the Moon on August 1, when it entered the translunar orbit. As of Saturday's announcement, Chandrayaan-3 is now in a stable orbit around the Moon and will conduct further orbit maneuvers until its expected landing date around August 24 later this month.
Chandrayaan-3 marks India's third mission in the ambitious Chandrayaan program, undertaken to explore the Moon's mysteries. It follows in the footsteps of its predecessor, Chandrayaan-2, which made history by achieving a successful soft landing on the lunar surface and deploying a rover.
The spacecraft is equipped with a propulsion module, a lander, and a rover, accompanied by several payloads designed to facilitate comprehensive lunar research. Among its key objectives is the sampling of the lunar surface, contributing to a better understanding of the Moon's composition and its relevance to the broader scientific community.
ISRO's successful entry of Chandrayaan-3 into lunar orbit demonstrates India's growing prowess in space exploration and reaffirms its commitment to advancing scientific knowledge about celestial bodies beyond Earth. As the spacecraft embarks on its next set of maneuvers, the eyes of the nation and the world remain fixed on its journey, eagerly awaiting new insights and breakthroughs in lunar exploration.
Father of Ujjain Rape Suspect Calls for Son's Execution
People who didn't aid the raped, injured, and naked 12-year-old girl may face child sex abuse law charges, A senior officer of the state police said.
Ujjain: The father of the man arrested in connection with the alleged rape of a 12-year-old girl in Ujjain on Friday has called for his son to receive the death penalty. Meanwhile, the local bar association has appealed to lawyers not to defend the accused in court. The victim, a 12-year-old girl, was discovered walking on the city streets in a wounded condition, desperately seeking assistance from passersby who unfortunately turned her away.
The injured girl is currently receiving treatment at the Government Maharaja Tukojirao Holkar Women's Hospital in Indore, where she underwent a major surgical procedure on Wednesday. A senior state police official has indicated that individuals who failed to assist the young girl when she went from door to door seeking help after the assault, which left her naked and bleeding, could potentially face charges under child sexual abuse laws. Such individuals may be charged under the POCSO Act for failing to report or register the commission of a crime, according to an NDTV report.
Bharat Soni, an auto-rickshaw driver, was taken into custody in connection with the case on Thursday. His father expressed his deep shame over the incident, stating, "It is a disgraceful act. I have not visited the hospital to see him, nor will I go to the police station or court. My son has committed a crime, and he should face the ultimate punishment, which is hanging," as he conveyed his sentiments to reporters. It should be noted that Soni sustained injuries while allegedly attempting to flee during the investigation, according to the police's statement on Thursday.
The Congress party has criticized the BJP government in Madhya Pradesh, where assembly elections are scheduled by year-end. Congress spokesperson Supriya Shrinate alleged that the state's law-and-order situation had significantly deteriorated under the leadership of Chief Minister Shivraj Singh Chouhan.
"In Madhya Pradesh, being a Dalit, tribal, or woman has seemingly become a crime. The state ranks highest in cases of minor rape. During Chouhan's 18-year tenure, there have been 58,000 reported rape cases and 68,000 reported kidnapping cases. Yet, the country's prime minister, home minister, and all BJP leaders remain conspicuously silent," Shrinate conveyed to reporters in Delhi.
The distressing incident, captured by a CCTV camera, depicts the 12-year-old girl, partially undressed and bleeding following the assault, desperately seeking assistance from neighbors who callously refused her aid. Furthermore, in a shocking display of heartlessness, one individual can be seen shooing her away as she approaches him for help.
Mob's Bid to Enter CM N Biren Singh's House in Imphal East, Manipur
Protests and clashes escalate in Imphal's Manipur following tragic youth deaths; curfew reinstated in two districts.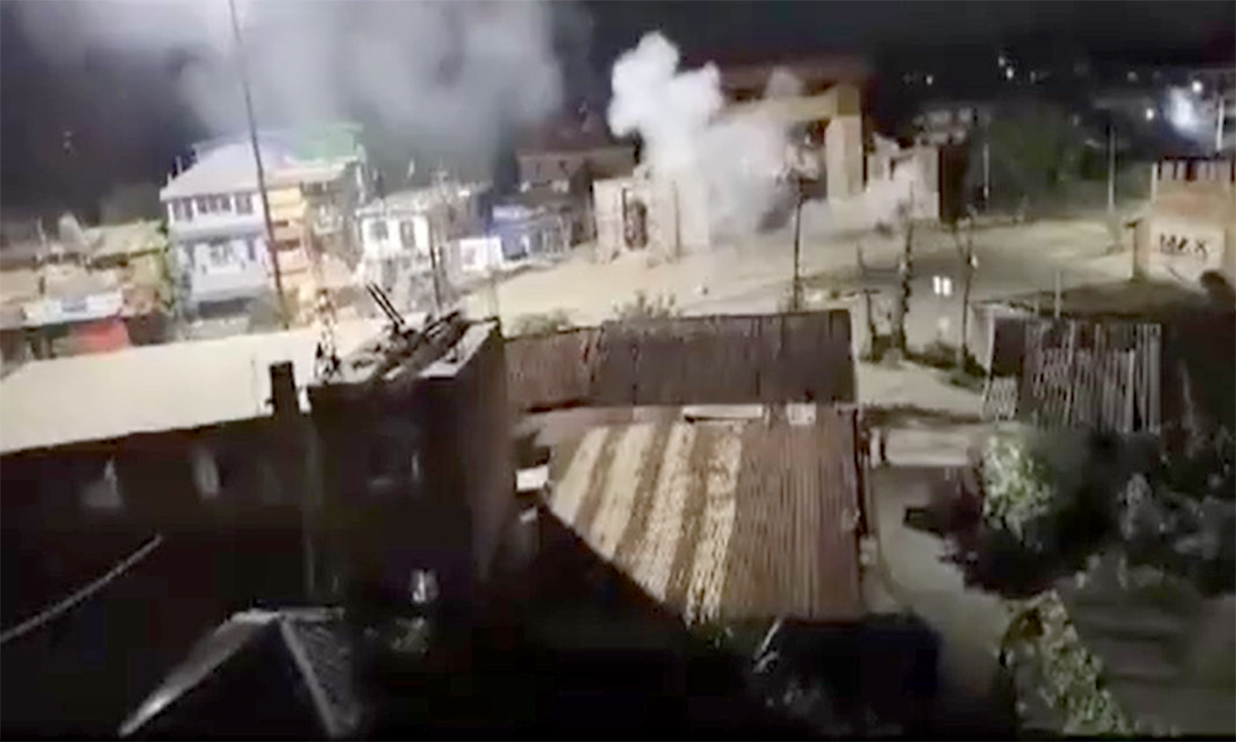 Imphal: Tensions flared in Manipur as an enraged crowd, numbering in the hundreds, gathered outside the private residence of Chief Minister N Biren Singh in the Heingang area of Imphal East. Security forces successfully prevented their attempt to breach the premises, according to PTI sources. Notably, the residence was unoccupied at the time of the incident.
Earlier, the district magistrate of Imphal East had announced a temporary relaxation of movement restrictions, allowing for a window between 5 am and 11 am on Friday for the entire district. However, this relaxation coincided with a fresh outbreak of violence in the Imphal Valley, stemming from the tragic deaths of two youths whose images had triggered widespread protests across the northeastern state.
The parents of the deceased youths had appealed to the authorities to locate their children's remains, underscoring the importance of conducting their final rites with the dignity they deserved. Subsequently, protests erupted, mainly led by students, in various areas of the state capital, including Uripok, Yaiskul, Sagolband, and Tera. The clashes between protesters and security personnel prompted the use of tear gas shells to maintain order.
To impede the advance of security forces into residential areas, demonstrators obstructed roads with burning tires, boulders, and iron pipes. Additionally, an enraged mob vandalized the District Commissioner's office and set two vehicles on fire. In a separate incident, a BJP office in Khongjam, Thoubal district, was also set ablaze, as reported by the police.
Subsequently, curfew was reinstated in both Imphal East and West districts as security forces grappled with the ongoing violent protests, which had resulted in injuries to 65 demonstrators since Tuesday. Police initiated a search operation to recover stolen firearms and apprehend those responsible for the disturbances.
The Manipur Police issued a statement asserting their commitment to taking stern action against individuals involved in criminal activities.
Hyderabad's Ganesh procession peacefully amid strong security
Peaceful Ganesh procession in Hyderabad amidst heavy rain, tight security; thousands participate.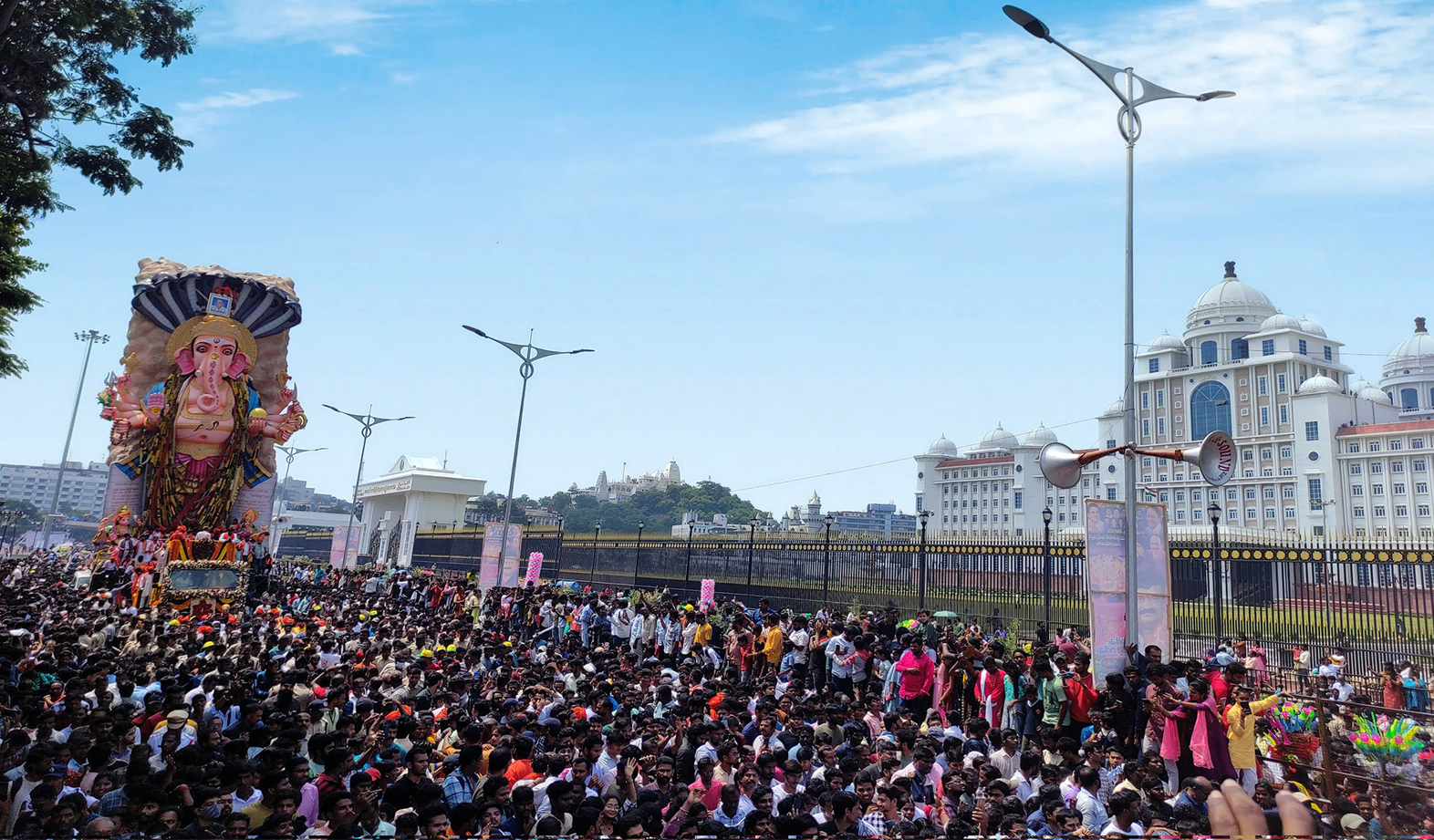 Hyderabad, a city steeped in tradition and cultural fervor, witnessed the peaceful conclusion of its grand Ganesh procession on Thursday, even as the immersion of idols continued in Hussain Sagar lake and numerous other water bodies across the city. This mammoth event unfolded without any untoward incidents, thanks to the vigilant security measures in place.
The procession commenced in the morning, with devotees flocking to the lakes for the immersion rituals, undeterred by the evening's heavy rain showers.
Hussain Sagar lake, the epicenter of the festivities, saw a multitude of trucks carrying idols queued up for immersion, a spectacle expected to continue into Friday morning. To maintain order and safety, traffic restrictions in select areas of the city were extended for a second consecutive day.
The main procession, originating from Balapur on the city's southern outskirts, culminated at Hussain Sagar in the afternoon, covering a distance of approximately 20 kilometers. Notably, this procession passed through the communally sensitive old city, where the police maintained a strong presence, especially near the historic Mecca Masjid near Charminar, to preempt any potential incidents.
Several subsidiary processions joined the main one, collectively forming one of the largest gatherings for immersion, rivaled only by Mumbai's celebrations. To ensure security, an impressive array of measures was implemented, including the installation of 20,600 CCTV cameras and the deployment of five drone teams.
This year, the Ganesh immersion coincided with Milad-un-Nabi, a significant religious occasion. In a remarkable display of interfaith harmony, Muslim organizations postponed their Milad procession to Sunday, while Muslim youths distributed food and water to devotees near Charminar during the festivities.
The security apparatus was extensive, with over 40,000 police officers stationed across Hyderabad, Cyberabad, and Rachakonda police commissionerates, supplemented by personnel from neighboring districts. Additionally, 125 platoons of additional forces, the Rapid Action Force (RAF), and paramilitary units were on standby.
Key officials, including Director General of Police Anjani Kumar and Hyderabad Police Commissioner C. V. Anand, monitored the procession from the newly inaugurated war room at the Integrated Police Command Control Centre. Home Minister Mohammed Mehmood Ali and Animal Husbandry Minister T. Srinivas Yadav conducted an aerial survey of the event in a helicopter.
Authorities anticipate the immersion of around 70,000 idols in Hussain Sagar and other lakes, with approximately four lakh devotees participating in the festivities. The administration made extensive medical provisions, with 47 health camps and 15 hospitals on standby, along with 34 lakh drinking water packets available at 122 stalls for devotees' convenience.
For the immersion of larger idols, 369 cranes, including 244 mobile cranes, were arranged. Notably, the iconic Khairatabad Ganesh, standing at a towering 63 feet, was immersed in Hussain Sagar around noon. For the second consecutive year, this idol was crafted from clay, aligning with the directive to avoid the use of Plaster of Paris (PoP) idols.
The ban on PoP idols continued for the third consecutive year, following a High Court ruling. The court mandated that PoP idols be immersed only in the baby ponds created by the Greater Hyderabad Municipal Corporation (GHMC), which had thoughtfully set up 74 such ponds for this purpose.
In preparation for Hussain Sagar's immersion, authorities deployed 36 cranes, three boats, and 100 swimmers, along with 3,000 sanitation workers, ready to address any contingency. The grand procession effectively brought the entire city to a standstill, necessitating the closure of liquor shops and bars within the limits of all three police commissionerates.