Terror in Gurugram: Muslim Migrants Fear for Their Lives
After the communal violence in Gurugram, some Muslim migrants are thinking of leaving the city at least for a while.
Muslim migrants in Gurugram have been facing a harrowing ordeal as they recount tales of fear and desperation. The recent incidents of hostility and threats to set fire to their slums have raised serious concerns about their safety and well-being. In this article, we shed light on the challenges faced by Muslim migrants in Gurugram and the urgent need for empathy, understanding, and sustainable solutions. It is crucial to address these issues to foster a harmonious and inclusive society.
Hostile Environment and Persecution:
The plight of Muslim migrants in Gurugram is exacerbated by the hostile environment they find themselves in. Reports of discrimination, threats, and intimidation have become increasingly prevalent. Fear looms large over their makeshift slums, as they are living in constant worry of their homes being set ablaze. Such distressing circumstances lead to mental anguish, affecting the overall well-being of the migrant community.
Socio-Economic Struggles:
The challenges faced by Muslim migrants in Gurugram extend beyond just safety concerns. They also confront significant socio-economic struggles. Many of these migrants come to the city in search of better livelihood opportunities, but they often find themselves in menial and low-paying jobs. The lack of access to quality education and skill development programs further hinders their prospects for upward mobility.
Lack of Basic Amenities:
Living conditions in the slums of Gurugram present a grim picture. Basic amenities like clean drinking water, proper sanitation, and electricity are often inadequate or entirely absent. These deplorable living conditions put the health and well-being of the migrant community at risk. The lack of proper infrastructure also perpetuates the cycle of poverty and marginalization.
Integration Challenges:
Integration into the local community remains a significant hurdle for Muslim migrants in Gurugram. Language barriers and cultural differences often lead to isolation and exclusion. The lack of acceptance and understanding from the host community further deepens the sense of alienation experienced by the migrants. Encouraging cultural exchange programs and promoting social cohesion can pave the way for better integration.
Role of Government and NGOs:
Addressing the challenges faced by Muslim migrants in Gurugram requires a collaborative effort between the government and non-governmental organizations (NGOs). The government must take proactive measures to ensure the safety and security of all residents, irrespective of their religious or ethnic backgrounds. NGOs can play a vital role in providing essential services, education, and skill development programs to uplift the migrant community.
Empowering the Migrant Community:
Empowerment programs that focus on skill development and entrepreneurship can empower Muslim migrants to become self-reliant and financially stable. Training in vocational skills can open up avenues for better job opportunities, enhancing their socio-economic status and fostering a sense of dignity.
Creating Awareness and Sensitization:
Raising awareness about the challenges faced by Muslim migrants in Gurugram is crucial in fostering empathy and understanding among the general public. Sensitization campaigns can help dispel stereotypes and prejudices, promoting a more inclusive and accepting society.
Conclusion: The stories of Muslim migrants in Gurugram paint a somber picture of their struggles and challenges. It is imperative for society to come together to address their concerns and ensure their safety, well-being, and integration. The government, NGOs, and the local community must collaborate to create a nurturing environment that fosters inclusivity, empathy, and opportunities for all. By working together, we can build a society where every individual, regardless of their background, can thrive and contribute positively to the nation's growth and progress.
YSRTP-Congress Merger Decision by End of September: Sharmila
YS Sharmila, YSR Telangana Party founder, met party members to plan for upcoming state Assembly polls and will tour all segments from October.
Hyderabad: YSR Telangana Party Founder, Y.S. Sharmila, has announced that a decision regarding potential collaboration with the Congress will be reached by the conclusion of this month. Sharmila, who is the sister of Andhra Pradesh Chief Minister Y.S. Jagan Mohan Reddy, conducted a meeting with senior party officials and members to deliberate on various aspects related to the forthcoming Telangana State Assembly elections, as stated in a press release.
During the meeting, the YSR Telangana Party leader emphasized that the determination regarding cooperation with the Congress would be finalized by the end of September, given the rapidly approaching notification deadline for the assembly polls. In the event that no alliance is forged, the party will proceed to contest in all 119 constituencies, according to the release.
Additionally, Sharmila disclosed plans to embark on a tour of all assembly segments commencing in the second week of October. In today's meeting, she assured party workers that their contributions would be duly acknowledged, and their interests would be safeguarded, as outlined in the release.
There had been speculation that Sharmila would formally engage with AICC leaders during the recent Congress Working Committee meeting held a few days ago. She had previously indicated that her discussions with the Congress party concerning potential collaboration or merger had entered their final stages. Furthermore, Sharmila had met with Sonia Gandhi and Rahul Gandhi in the national capital as part of these discussions.
Pragya Thakur Presents Herself in Court for 2008 Malegaon Blast Case
BJP MP Pragya Thakur appears in court for 2008 Malegaon blast case, citing health reasons for her late arrival.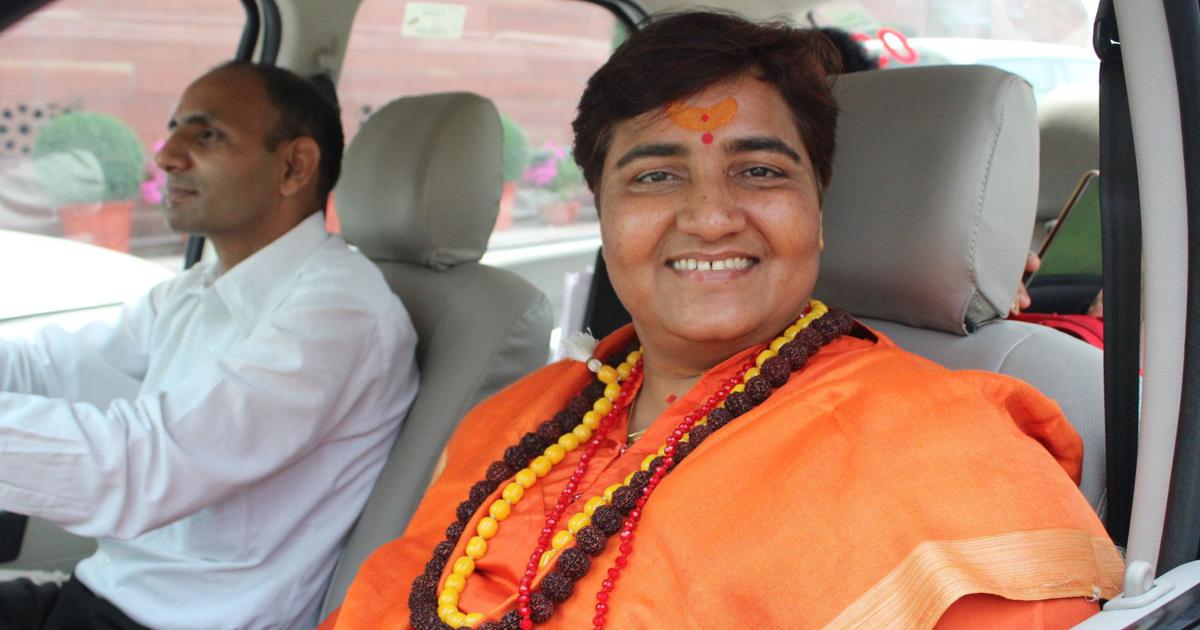 Mumbai: Bharatiya Janata Party MP Pragya Singh Thakur, one of the accused in the 2008 Malegaon blast case, made her appearance in a special NIA court in Mumbai on Monday. Thakur arrived at the court around 2 pm, a couple of hours after the other accused in the case had already presented themselves.
During her court appearance, Thakur cited health issues as the reason for her delayed arrival, explaining that it hindered her ability to wake up early in the morning. As a result of this, the court decided to adjourn the proceedings to October 3, when they would record the statements of all the accused involved.
On September 14, the prosecution had informed the court that the process of collecting evidence for the case had been completed, and there was no need for further examination of prosecution witnesses. Following this, the court typically proceeds to record the statements of the accused under section 313 of the Criminal Procedure Code (CrPC). In this stage, the court poses general questions to the accused, allowing them to personally address any circumstances that may have arisen from the evidence presented against them.
On this particular day, only six of the accused appeared before the court: Pragya Singh Thakur, Lt Col Prasad Purohit, Major (retired) Ramesh Upadhyay, Ajay Rahirkar, Sudhakar Chaturvedi, and Sameer Kulkarni. Sudhakar Dwivedi was notably absent, and his lawyer attributed his absence to religious rituals. However, the court rejected this explanation and issued a bailable warrant of Rs 5,000 against Dwivedi.
The Malegaon blast case dates back to September 29, 2008, when an explosive device attached to a motorcycle detonated near a mosque in Malegaon, a town approximately 200 km from Mumbai in northern Maharashtra. The incident resulted in six fatalities and over 100 individuals sustaining injuries. Initially, the Maharashtra Anti-Terrorism Squad (ATS) handled the investigation, but it was later transferred to the National Investigation Agency (NIA) in 2011.
Bridge Collapse in Surendranagar Gujarat; four injured
Bridge collapse: 40-ton dumper crosses banned bridge on Panchayat road near Wadhwan city, raising safety concerns. Learn more.
In a concerning incident in Gujarat's Surendranagar district, an old bridge over the Bhogavo river collapsed, resulting in injuries to four individuals. The incident transpired on a Sunday evening when a 40-ton dumper attempted to cross the bridge, despite heavy vehicle restrictions on the panchayat road near Wadhwan city. This article delves into the details of this bridge collapse and the circumstances leading up to it.
The Bridge Collapse
The collapse of the bridge occurred suddenly, sending shockwaves through the local community. A dumper, along with two motorcycles, was traversing the bridge when the first slab gave way, causing minor injuries to the four people on it. The heavy vehicle and motorcycles plunged into the Bhogavo river, leading to a chaotic and dangerous situation.
Age and Responsibility
This bridge, now making headlines for all the wrong reasons, had a significant history. It had been serving the community for almost four decades, with the responsibility for its maintenance lying with the state Road and Buildings Department. Despite its age, the bridge was considered safe, but recent events have brought its structural integrity into question.
Warning Signs Ignored
It's worth noting that authorities had taken precautions to prevent such incidents. A warning board was prominently displayed, and barricades were erected to deter heavy vehicles from using the bridge. These measures were taken to ensure the safety of all road users. However, despite these clear warnings and restrictions, a 40-ton dumper ventured onto the bridge, ultimately leading to the collapse of its first slab.
The Aftermath
The aftermath of the bridge collapse has raised important questions about infrastructure maintenance and adherence to safety guidelines. Local authorities are currently assessing the situation, and investigations are underway to determine the exact cause of the collapse. Meanwhile, the injured individuals are receiving medical attention, and efforts are being made to retrieve the vehicles from the Bhogavo river.
Conclusion
In conclusion, the collapse of the bridge in Surendranagar is a stark reminder of the importance of adhering to safety regulations and guidelines. It is imperative that both authorities and citizens exercise caution when using aging infrastructure. This incident highlights the need for proactive maintenance and strict enforcement of vehicle restrictions on such bridges to prevent similar tragedies in the future.