Prez Murmu welcomes inauguration of new Parliament building by PM Modi
President Droupadi Murmu expressed her warm appreciation for the inauguration of the new parliament building by Prime Minister Narendra Modi on Sunday
New Delhi: President Droupadi Murmu expressed her warm appreciation for the inauguration of the new parliament building by Prime Minister Narendra Modi on Sunday, hailing it as a moment of immense pride and joy for the entire nation. She emphasized that this significant event would be etched in golden letters in the annals of Indian history.
In her heartfelt message delivered during the inauguration ceremony, President Murmu conveyed her deep sense of pride and happiness on behalf of the people of India. She stated, "The inauguration of the new parliament building is a matter of pride and joy for all the people of India."
The president's message was read aloud by Harivansh, the Deputy Chairman of the Rajya Sabha, capturing the essence of the occasion.
Recognizing the parliament as a guiding light for the country, President Murmu underscored the new parliament building's pivotal role as a significant milestone in India's democratic journey. She remarked, "The occasion of the inauguration of the new parliament building will be written in golden words in the history of India."
The inauguration of the new parliament building marks a remarkable achievement for the country, symbolizing its commitment to fostering a robust democratic system. The state-of-the-art facility is poised to provide a modern and conducive environment for the country's lawmakers to deliberate and shape the nation's future.
The event was attended by various dignitaries, including political leaders, eminent personalities, and members of parliament, who expressed their admiration and support for this monumental undertaking. The new parliament building stands as a testament to India's unwavering commitment to democratic values and its constant endeavor to uphold the spirit of governance.
With the new parliament building's inauguration, India enters a new era, bolstering its democratic institutions and reaffirming its position as a vibrant and thriving democracy on the global stage. This historic milestone will undoubtedly leave an indelible mark on the nation's journey towards progress and development.
As the nation embraces this remarkable achievement, it stands united in celebrating the inauguration of the new parliament building as a symbol of India's democratic strength and resilience.
Mobile Internet Services Restored in Manipur After Four-Month Suspension
Mobile internet restored in Manipur after 4-month suspension due to ethnic violence; Chief Minister seeks border control.
Imphal: Mobile internet services, suspended due to ethnic violence in Manipur in early May, have been restored after more than four months as of Saturday.
The services resumed shortly after Chief Minister N Biren Singh's morning announcement.
He also urged the cancellation of the free movement regime, which permits individuals residing near the India-Myanmar border to venture 16 km into each other's territory without documentation.
Addressing a press conference, Singh stated, "The government suspended mobile internet services on May 3 to curb the spread of fake news, propaganda, and hate speech. However, with the improved situation, mobile internet services will be reinstated statewide from today."
The services were reinstated around 3 pm, according to an official statement.
The chief minister emphasized the government's commitment to addressing the issue of "illegal immigrants" and stressed the necessity for a complete border fence between India and Myanmar.
"The Union Home Ministry has initiated the fencing of 60 km of the international border in Manipur," he stated.
Singh argued that the current situation was the result of unplanned policies from previous governments and not a direct consequence of recent decisions.
"Our government has requested the Union Home Ministry to revoke the free movement regime. Furthermore, security forces have not effectively secured the border. Instead of being stationed at the zero point, they were found guarding the border 14-15 km inside Indian territory," he claimed.
The chief minister also criticized the prevalence of strikes and instances of "widespread verbal abuse against MLAs, ministers, and police officials, which have diverted attention from real issues and fostered conflict among ourselves."
"In the past two months, the situation has improved, and the frequency of firing incidents has decreased with the deployment of security forces in vulnerable areas," he noted.
Singh revealed that a nationwide survey had indicated a rise in drug and substance abuse among the state's youth, which prompted his government to launch a 'war on drugs' in 2018.
"This will continue, with a stronger focus on eradicating poppy plantations in the hills," he added.
Singh further stated that incidents of extortion, kidnappings, and other crimes committed by miscreants impersonating policemen had risen.
"We must remain focused on the genuine issues in the state, namely addressing the influx of illegal immigrants, implementing welfare programs for internally displaced persons, and combating extensive poppy cultivation," he stressed.
"To establish the rule of law in Churachandpur, Kangpokpi, Moreh, and Imphal, our government is undertaking multiple initiatives," Singh concluded.
Since ethnic violence erupted in Manipur on May 3, with the organization of a 'Tribal Solidarity March' in the hill districts to protest the majority Meitei community's demand for Scheduled Tribe status, more than 175 people have been killed, and several hundred have been injured.
Meiteis make up approximately 53 percent of Manipur's population and primarily reside in the Imphal valley, while tribals, including Nagas and Kukis, constitute 40 percent and live predominantly in the hill districts.
Women's Reservation Bill Scares Political Parties: PM Modi
PM Modi praises women's role in passing the Women's Reservation Bill, inaugurates cricket stadium & schools during Varanasi visit.
Lucknow: Prime Minister Narendra Modi, during his day-long visit to Varanasi on Saturday, credited 'women power' for the passage of the women's reservation bill named 'Nari Shakti Vandan Adhiniyam' at a special session of Parliament earlier in the week. He emphasized that the bill would provide renewed energy, direction, and momentum to women-led development in the country.
During his visit, the Prime Minister also laid the foundation for an international cricket stadium in the presence of cricketing legends and BCCI officials. Additionally, he inaugurated 16 Atal Residential Schools (ARS) designed to benefit underprivileged and orphaned children. Addressing a gathering of women during his 42nd visit to Kashi over the past nine years, the Prime Minister acknowledged the historical influence of women leaders.
"The Nari Shakti Vandan Adhiniyam, which had been pending for three decades, has now become a reality. Your strength compelled even those political parties who were initially opposed to it to support the bill in both Houses of Parliament," Modi said, giving credit to the women of the country. He added, "Your awareness and unity have made all Indian political parties tremble, and that's why this bill was passed—this is your strength."
The Prime Minister indirectly addressed those who had objections to the term "Vandan" in the bill, stating, "Who would be respected and worshipped if our mothers and daughters were not?"
During his visit, the Prime Minister was warmly welcomed by women who showered flower petals on him as a gesture of gratitude for the passage of the women's reservation bill. Speaking at the Sampurnanand Sanskrit University grounds in Kashi, Modi highlighted the historical recognition of women's leadership in India. He praised the valor and strength of figures like Rani Lakshmibai and Ahilyabai Holkar, emphasizing their contributions to India's history.
"From Rani Lakshmi Bai and her freedom struggle to the achievements of Mission Chandrayaan in modern India, we have consistently demonstrated the power of women's leadership in every era," the Prime Minister remarked.
"Kashi is the holy city of Mother Kushmanda, Mother Shringar Gauri, Mother Annapurna, and Mother Ganga. The glory of their power is embedded in every corner of this place. Therefore, after the passage of Nari Shakti Vandan Adhiniyam, I came to Kashi first to seek your blessings," he added.
Earlier in the day, alongside UP CM Yogi Adityanath and cricketing legends including BCCI chairman Roger Binny, Sunil Gavaskar, Sachin Tendulkar, Kapil Dev, Ravi Shastri, Dilip Vengsarkar, Gundappa Vishwanath, Madan Lal, Karsan Ghavri, BCCI secretary Jay Shah, and vice-chairman Rajeev Shukla, the Prime Minister laid the foundation stone for a Rs 451 crore International Cricket Stadium. Designed with attributes inspired by Lord Shiva, this stadium will be the first sports facility in UP developed with the assistance of the BCCI, with an investment of Rs 330 crore from the BCCI and the rest from the UP government. The Prime Minister expressed confidence that the stadium would not only benefit athletes but also boost the economy of eastern UP (Purvanchal), becoming a symbol of India's promising future.
The Prime Minister concluded his visit to Kashi by inaugurating 16 Atal Residential Schools (ARS), including one in Varanasi's Karsara locality, built at a cost of Rs 1115 crore across all 18 divisions of the state. He dedicated these schools to children from disadvantaged backgrounds and those who lost their parents during the pandemic, highlighting his vision of combining development with heritage conservation. He expressed hope that these ARS facilities would nurture India's future leaders, who would excel in both education and other pursuits.
NIA Seizes Properties of Sikh Separatist Gurpatwant Singh Pannun
NIA seizes assets of Sikh separatist Gurpatwant Singh Pannun linked to Nijjar's murder, Pannun faces terrorism charges.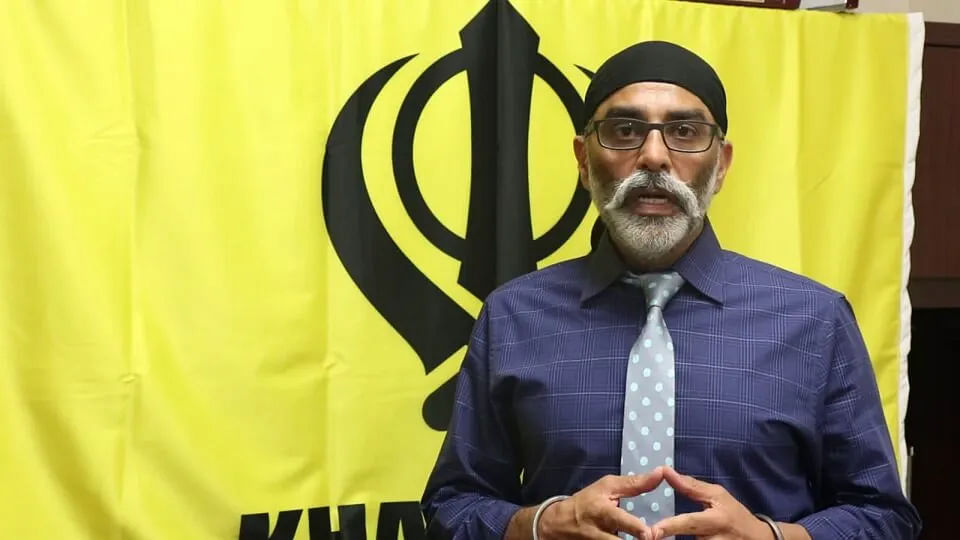 New Delhi: The National Investigation Agency (NIA) took action on Saturday by seizing the assets of Gurpatwant Singh Pannun, a prominent Sikh separatist believed to be residing in Canada and closely associated with the late Hardeep Singh Nijjar. The killing of Nijjar has become a source of diplomatic tension between India and Canada.
Gurpatwant Singh Pannun, a lawyer who was designated as a terrorist by Indian authorities in 2020, is wanted on charges of terrorism and sedition.
He is also known for founding the US-based organization Sikhs For Justice (SFJ), where Nijjar was the head of its Canadian chapter before he was assassinated by masked individuals near Vancouver in June.
SFJ, which has been banned in India, has been an outspoken advocate for the establishment of an independent Sikh homeland known as Khalistan.
This diplomatic dispute escalated this week when Canadian Prime Minister Justin Trudeau suggested that there were credible reasons to believe that the Indian government was involved in Nijjar's death.
In response, India dismissed Trudeau's allegations as absurd, leading to reciprocal diplomatic expulsions and a suspension of visa processing for Canadians.
Pannun entered the fray and released a video in which he urged Canadian Hindus to return to India, accusing them of adopting a jingoistic stance by aligning with India.
During an interview with an Indian news channel, Pannun revealed that he had been a close associate of Nijjar for more than two decades, describing him as a younger brother. He also held India responsible for Nijjar's assassination.
Following the airing of this interview, the government issued an advisory to news networks, urging them to avoid providing a platform to individuals accused of heinous crimes.
Armed with court orders, NIA officials seized Pannun's residence in Chandigarh, the capital of the Sikh-majority state of Punjab. Additionally, they confiscated agricultural land owned by him in Amritsar. The NIA accused Pannun of actively inciting Punjab-based gangsters and youth on social media to advocate for the independent state of Khalistan, thereby challenging the country's sovereignty, integrity, and security.